ofo #60322681
2017 Tianjin Fuji-Ta
Specsheet
Manufacturer:
Tianjin Fuji-Ta
Service Region:
City of Dallas
Years Active:
Nov. 2017 - August 2018
Acquired from:
Bikes for Tykes (via Steve's Certified Auto Repair)
Inducted to the Museum:
May 30th, 2019
Gallery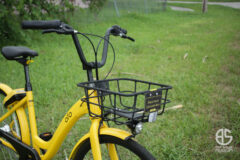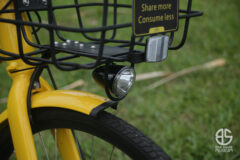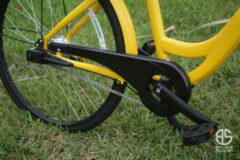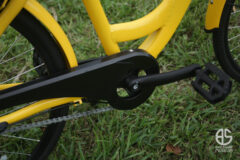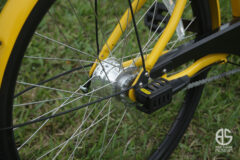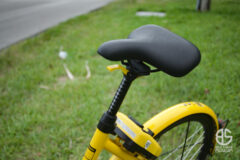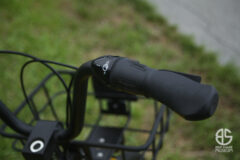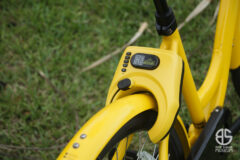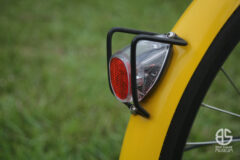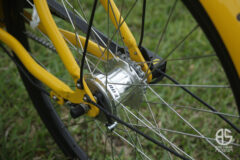 Bicycle Bio
The Museum's second ofo hails from the former Dallas fleet; one of the 350 donated to the Bikes for Tykes charity of Richmond Hills, Texas.
The Dallas fleet gained a fair amount of infamy when most of them were discovered scrapped, after the city priced them out of the market. The story made national news on NPR, and though it shone a light upon the environmental responsibilities that some bike share providers shirk regarding disposal, less was said about the good that did come of it.
Lost under the finger-pointing at the city for pricing ofo out of the market (with an $800 license and an operation fee of $21 per bike deployed) is a remarkable story of human kindness. As the NPR article mentions, approximately 500 bikes were given to the charities CitySquare and Bikes for Tykes.
Pete Cox – vice president of Bikes for Tykes – explains how Tykes received their 350:
"We got the bikes because a couple of years ago, we donated a bike to a homeless fellow who felt obliged to return the favor. In his words, he said 'If I ever come across some bikes, I will get them for you.'

Turns out he went to work for ofo in Dallas. [W]hen they decided to quit and had many bikes to dispose of, he remembered his promise – and made good on it. Just goes to show the power of doing good things for others not to mention the feeling one gets from helping others."
Powerful stuff.
Unfortunately, I don't know the story or the fate of the CitySquare bikes.
As for Bikes for Tykes, the ofos don't really fit younger kids, so the Tykes fleet is now stored and is being sold by Steve's Certified Auto Repair, who is donating 100% of all proceeds to Tykes.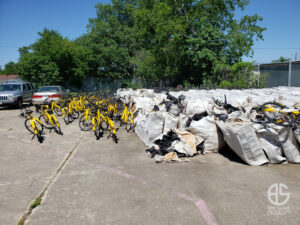 The retired dockless bicycle has yet to be recognized for its practicality though, so the bikes haven't moved that quickly, since their acquisition last year. Quite a few bikes still remain at Steve's, and thanks to BikeForums.net member Cooperryder, I was made aware of their availability.
He was kind enough to pick one up, box it up, and send it on over; so now we have a stablemate for our Shanghai General ofo from the South Miami fleet.
The Dallas fleet also included the Shanghai General model, but the Tykes survivors were these Tianjin Fuji-Ta-built versions. While the Tianjin Fuji-Ta's swooping mono-tube is more artistic when compared with the angular and businesslike Shanghai, it shares many similar details. Yet, not a single part – save for the gas-adjust seatpost and ofo's standardized Smart Lock – is absolutely identical to the other. Interchangeable yes, identical no.
The grips, for instance, differ ever so slightly between the two; even though they're based on a single design. Both are nearly identical, with "ofo" outlined into the grip pattern, but it is obvious that two suppliers were used. Each had their own way of completing the product.
The fender stays on this one are clamped from the bottom, and like most quality bike share bikes, all the fasteners are stainless Torx security boltswith stainless nylock nuts. This is nicer (and sturdier) hardware than the stuff most cruisers at bike shops have. As I've said in the past, these things were really meant to be left outside in the elements weather and abused, and ridden away a year later like nothing ever happened.
They're the present day equivalent to an electroforged Schwinn. Even the chain is one of those BMX freestyle monsters – and coated in a silver, rust-preventative finish. KMC sells chains with the same finish under the "Rust Buster" moniker.
So how does this tank on wheels ride?
Not bad. But I have not had much of a chance to ride it.
Since ofo's tri-wing wrench (for the saddle, seatpost, and handlebars) still eludes me, I've only ridden it briefly. I've been able to torque the handlebar/stem enough to keep it in place, but it is not secure enough for everyday riding.
I did venture to take it on a brief ride around the block though, and immediately noticed that it differs immensely from the Shanghai General. Sure, the solid tires are rough no matter what you do, but this one feels lighter and more responsive than the General. Maybe its my own imagination, but I'm certain that the gearing of the Sturmey-Archer hub has something to do with it. It just feels a lot more agreeable in comparison to the Shimano Nexus Inter-3 on the Shanghai.
Perhaps the planetary gears of Sturmey hub are more efficient than the Nexus, but I've yet to find any data on either. Nor have I counted cogs and sprockets, but the Shanghai General just rides like the brakes are dragging (I've checked, they aren't).
Then again, I do have a bias towards Sturmey-Archer, thanks to my love of English roadsters. I've owned too many AWs to count and presently have two 4-speeds (one FW, and one FG DynoFour) in addition to a AG DynoThree. But despite this impressive lineup, I've had precious little opportunity to experience the new hubs under SunRace ownership.
This ofo's X-RD3 is the second modern Sturmey I've ridden. Though the tick-tick-tick of the immortal Sturmey AW 3-speed isn't present, the new hub has a jaunty, fun tempo all its own. In comparison to the silent and businesslike Nexus, the X-RD3 is the Lin-Manuel Miranda of internally geared hubs.
The X-RD3 is a 3-speed with a built in drum brake, and I must admit that I'm surprised that it was chosen. Most dockless bikes seem to standardize with band brakes front and back (or V-brakes), so combining the front band with the rear drum is an interesting oddity. Given that Sturmey-Archer also offers the SX-RB3 – a 3-speed hub with the same internal gearing as the X-RD3 and band brake compatibility – the end choice is a bit surprising.
Not that I have a problem with that. The X-RD3's polished, high-flange shell make it one of the most attractive hubs I've seen yet, almost out of character with a bike designed to get used and abused. While the built-in drum brake feels a bit spongier and less responsive than the usual band brake, I'm glad to accept the tradeoff for the looks – and combined, the two brakes do provide more than ample stopping power.
Like other dockless bicycles, this one has a 6V generator hub for the front, which appears to be a Chinese copy of a Shimano DH-2N71, and a fairly nice one at that. There isn't a single mark of a manufacturer's name on it, but it appears to be a nice piece. Perhaps not as refined, but still very nice.
And for once, I have a bike with a working rear taillight. The taillight is a single blinking LED powered off a coin cell battery, which conserves its power by supplying power only when the bike is ridden (or jostled). It also has a sensor pointed straight up from the clear housing so it only operates in low light.
Given that I haven't been able to take this one for a proper cruise, I can only say so much about it. But when it's ready, I'd really like to do a ride quality shootout between it and the Shanghai General…though I think I know which one would win.
Which one would you go for?
Related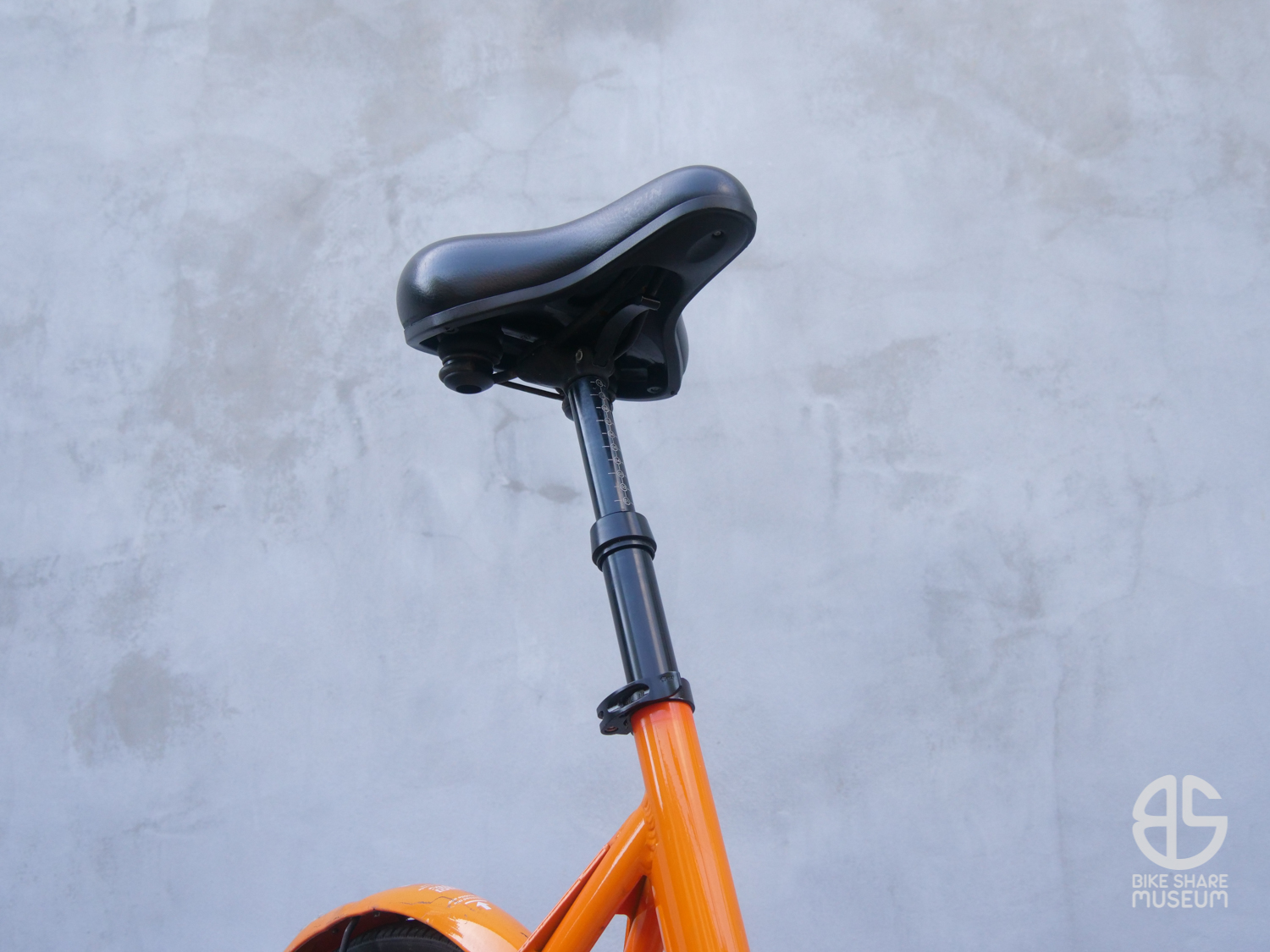 This simple conversion will allow you to raise a factory gas-adjust post or replace it entirely.
You can throw away your conventional wrenches for this one.
I'm pleased to say another bicycle has joined the ranks of the Museum. No, not all of them.
Hop on!
The Bike Share Museum is an enthusiast-run site; everything to host this site and store these bikes comes out of our own pocket.
If you'd like to see more content like this, consider supporting us with a donation (of any amount) to help keep the Museum going. Thanks.