I'm pleased to say another bicycle has joined the ranks of the Museum (no, not all of them).
Thanks to the work of a former ofo employee, a Texas auto shop, and a wonderful charity that gets kids on bicycles, the Museum has acquired one of the ofos seen here. In fact, if you are a fan of these ofos (or just need a sweet deal on an essentially brand-new Sturmey-Archer 3-speed hub with drum brake), you can get one too – but you have to be in the Richland Hills, Texas area.
More on that in a minute.
As you have undoubtedly guessed from the photo, the new acquisition is yet another ofo, rather different than the Shanghai General / Kent example already in the Museum's collection. It is one of the bikes that was part of the Dallas fleet, but due to the overestimation of fleet size and popularity, it was retired early. Many others that were never actually deployed.
The Dallas models were built by Tianjin Fuji-Ta Bicycle Industries and feature a slightly more curvaceous mono-tube frame than the Shanghai models we received in Miami. Nevertheless, these have the same gas-strut seatpost, Panasonic 6V generator light, front band brake, and solid tires on 26″ wheels.
These feature a slightly different rack, fenders, chainguard, and handlebar, but perhaps the most interesting element is the use of a spiffy Sturmey-Archer X-RD3 3-speed IGH hub – with built-in drum brake – for the drivetrain. Since Sturmey-Archer doesn't offer a 3-speed hub with left-hand threading for a band brake, this must have been the go-to solution to internalize all braking mechanisms. (It's worth mentioning that the Sturmey-Archer-equipped Spin bicycles use conventional V-brakes, so they use the more common S-RF3 hub).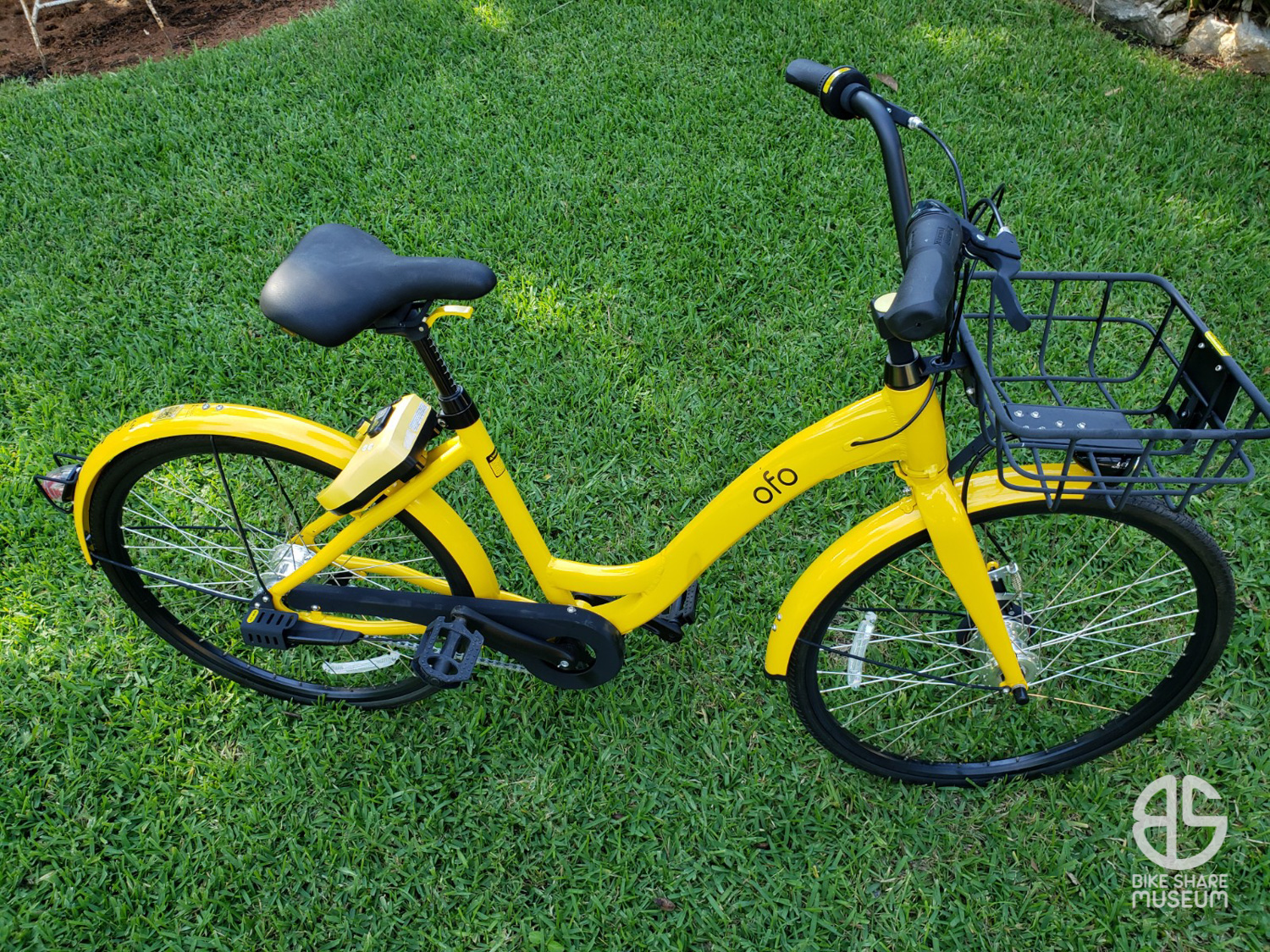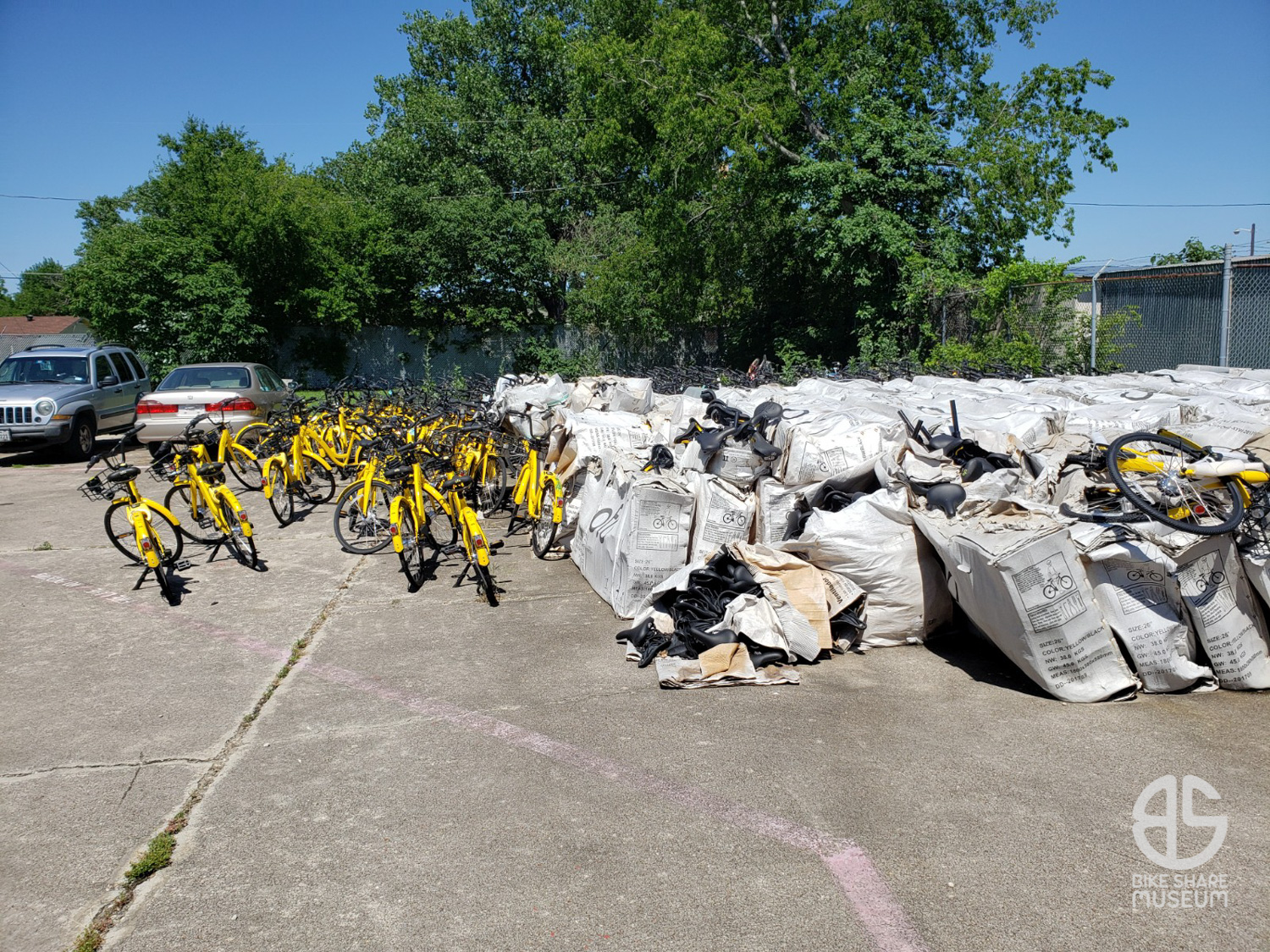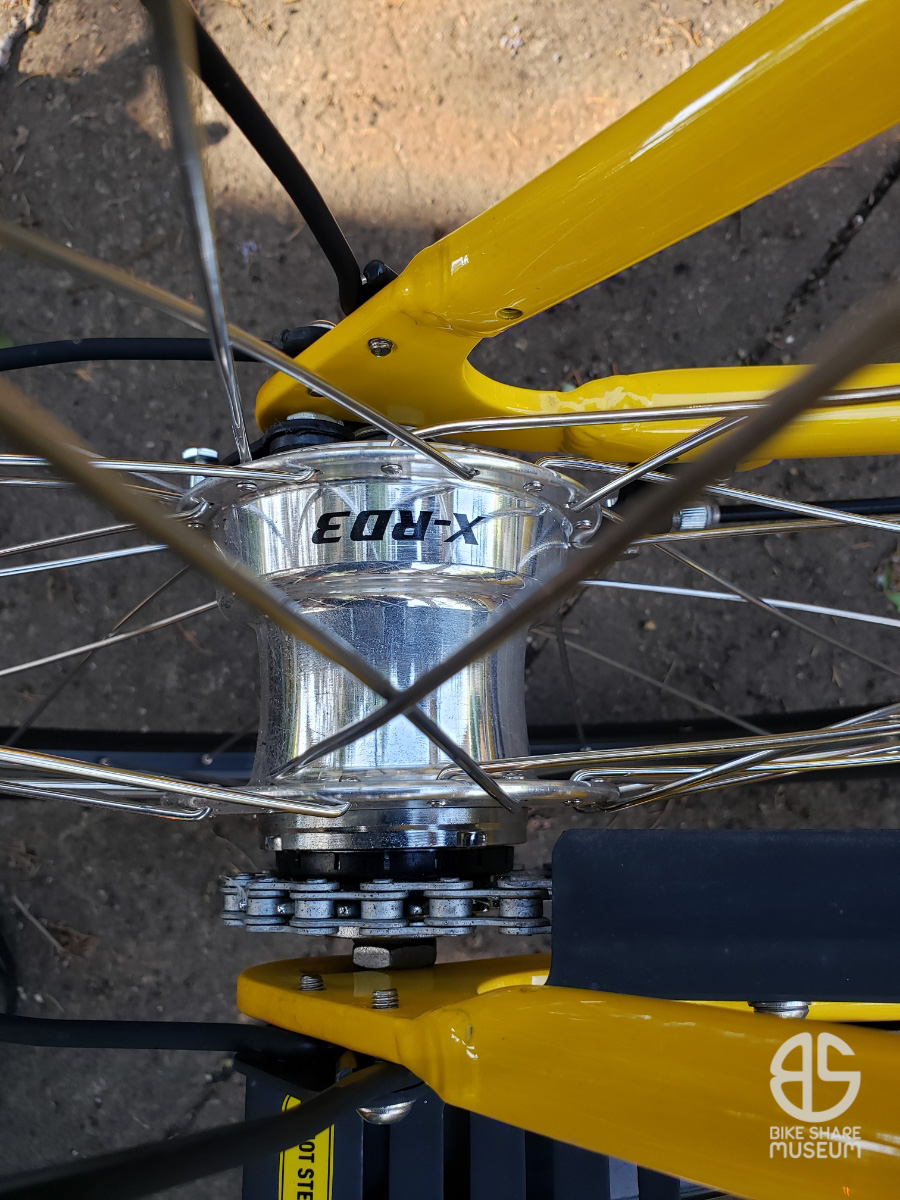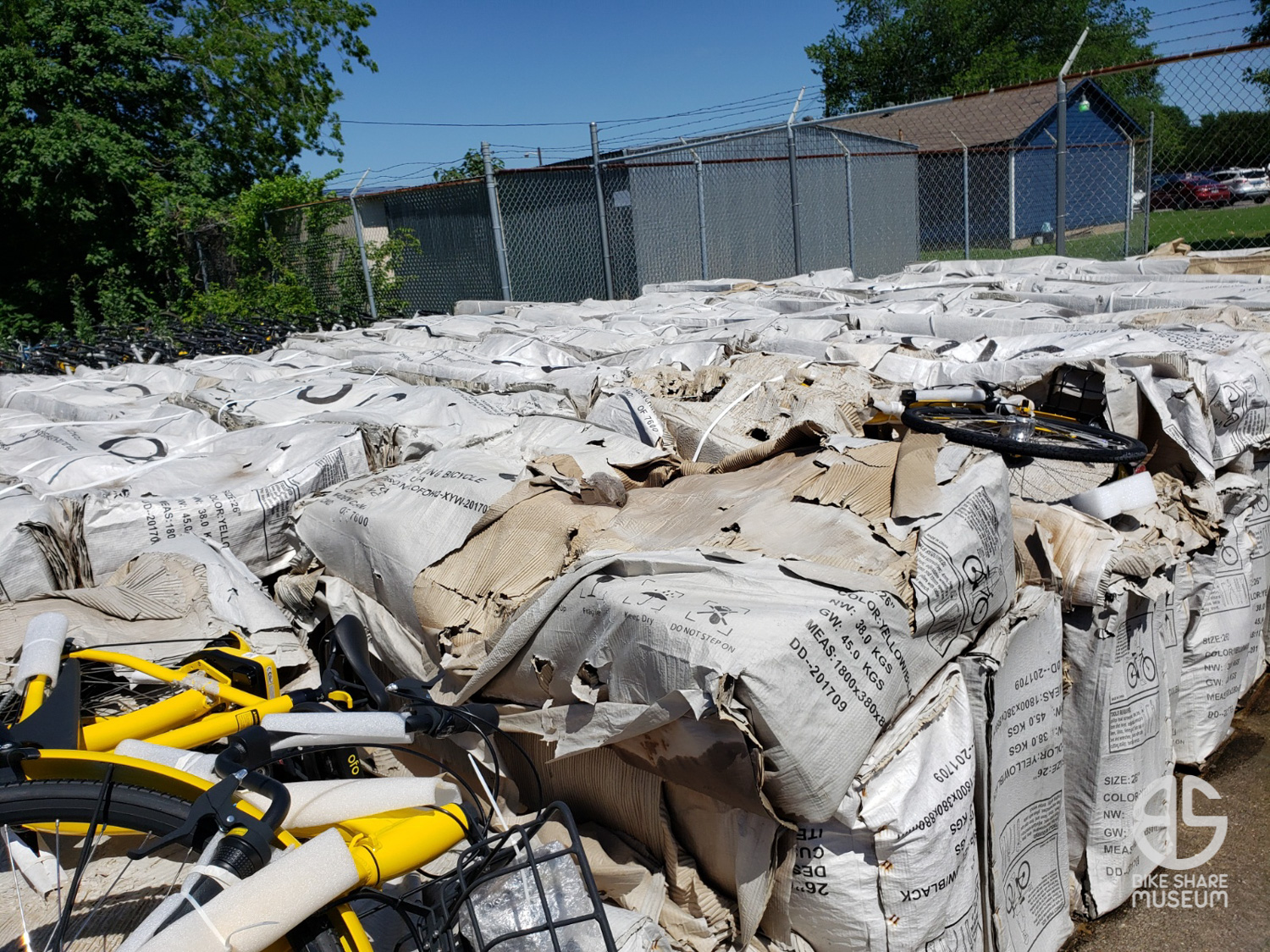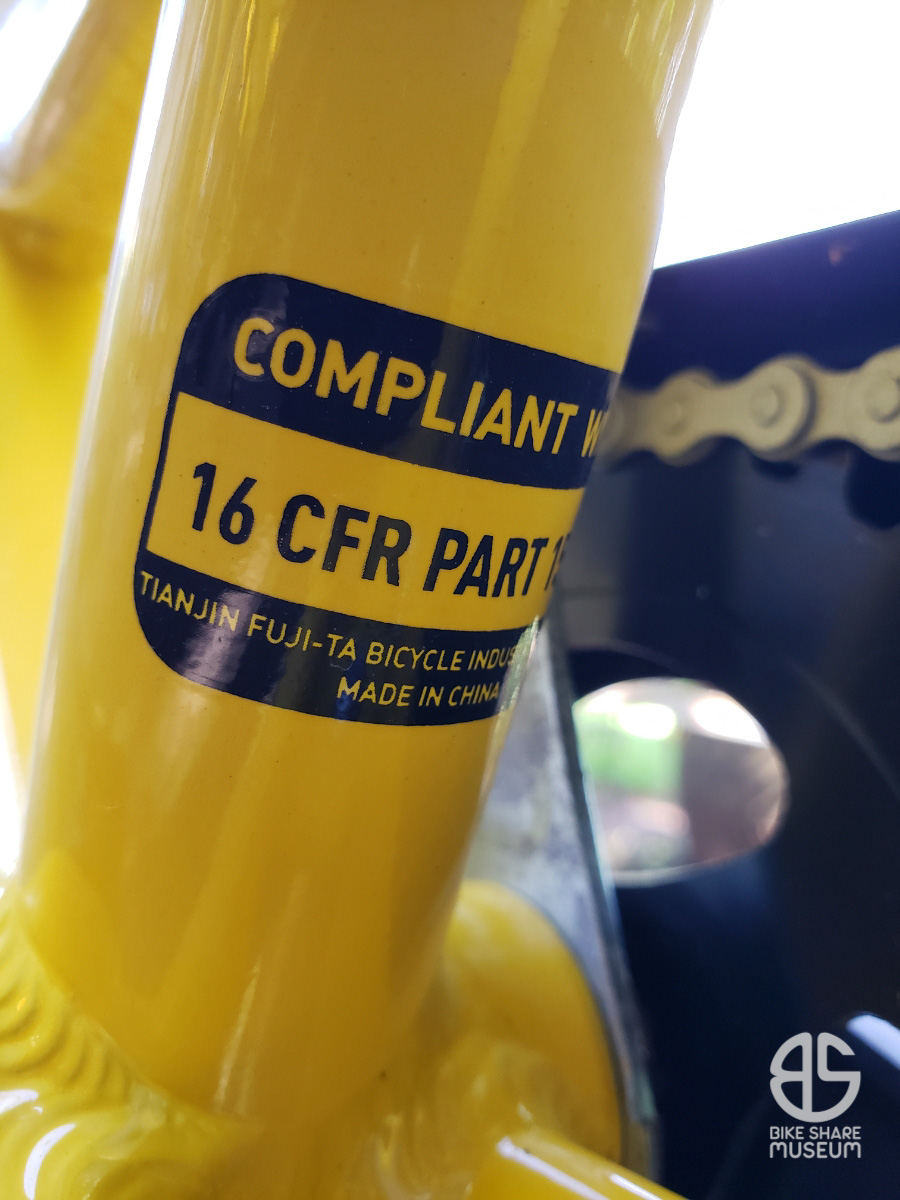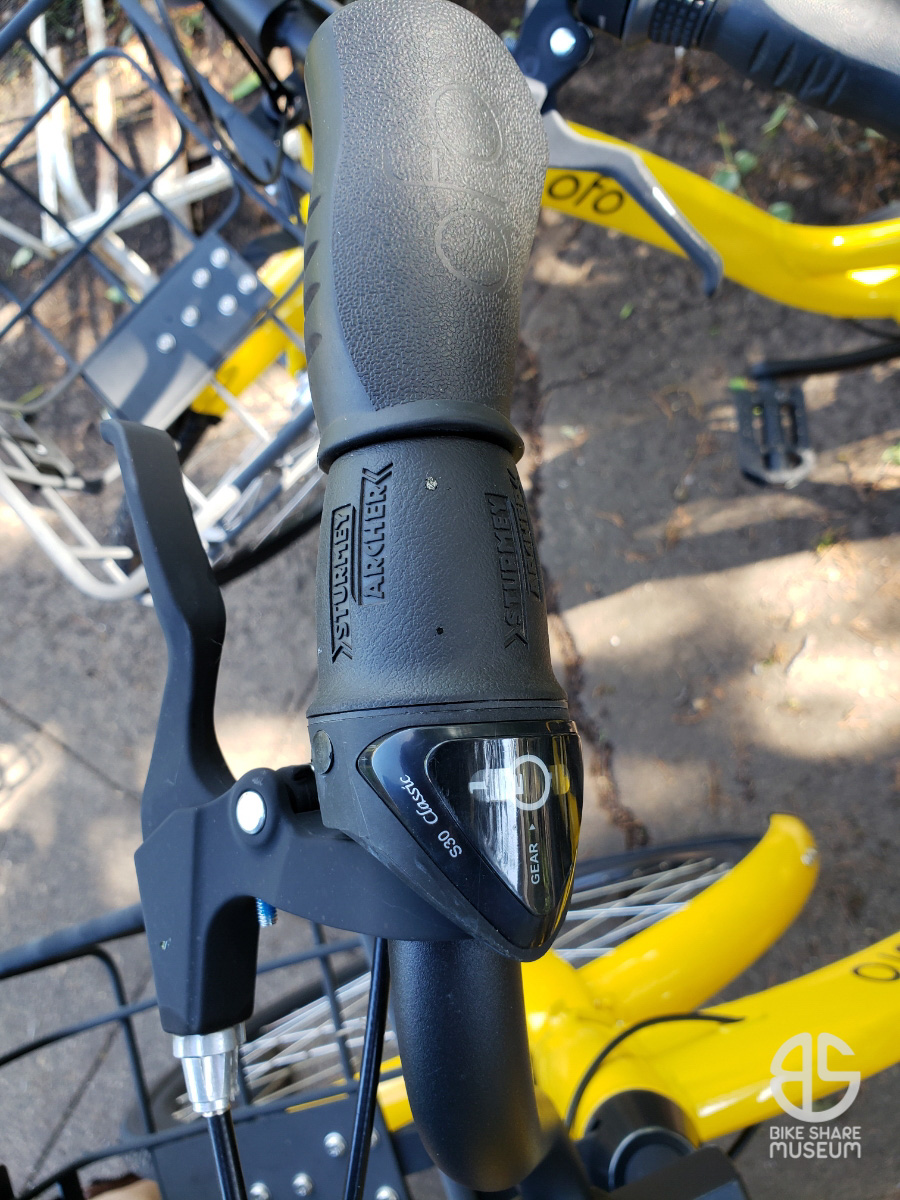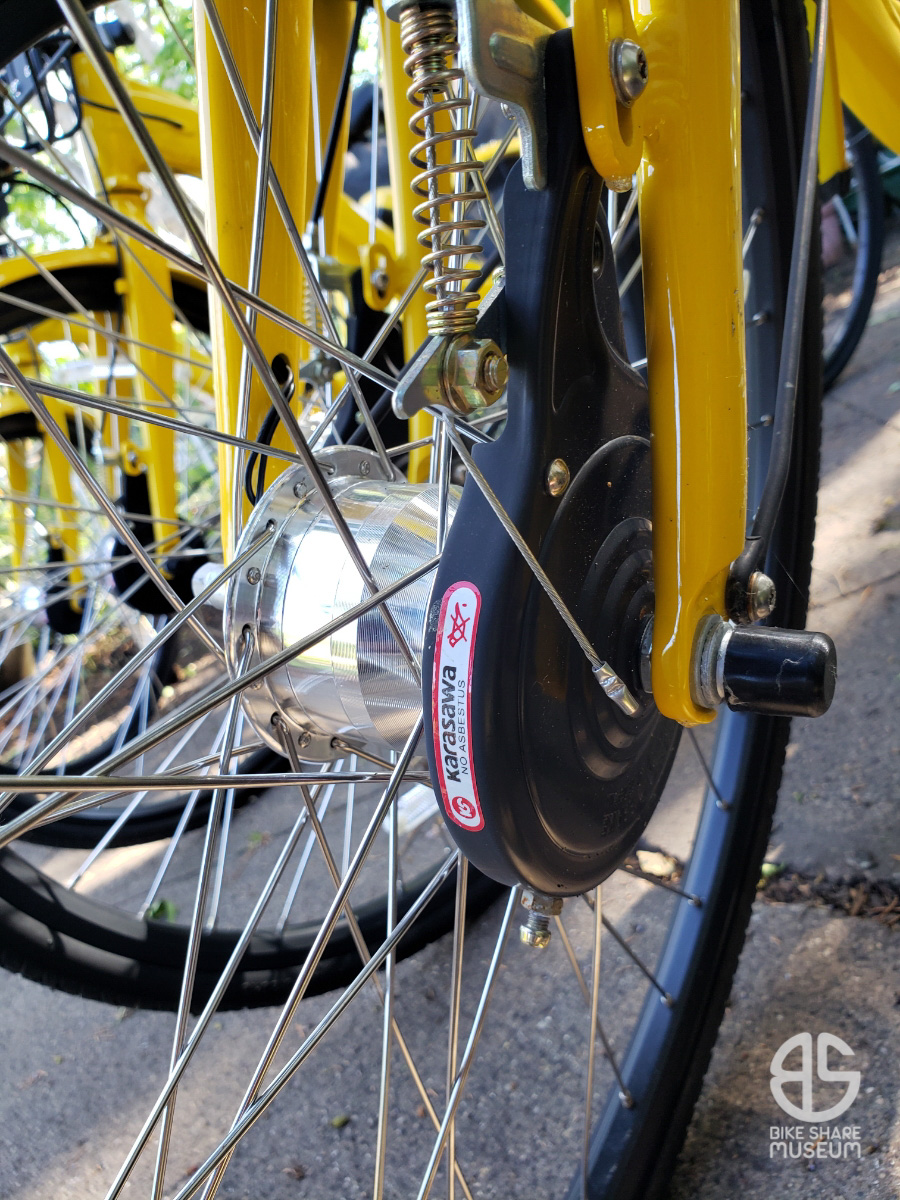 This said, I could not go toodling off to Dallas to pick one of these up, but a friend of mine offered to facilitate one on his trip to pick one up for himself. Its already getting boxed up. I don't know which one in this sea of bicycles it is, but that'll just add to the surprise.
Now, I said that anyone interested who lives in the Dallas area could get one of these ofos – and chances are, you can! Though most news agencies sensationalized how many went to scrap, few of them pointed out that 350 of the bicycles were acquired by Steve's Certified Auto Repair of Richland Hills, Texas on behalf of Bikes for Tykes – a non-profit program that has fixed up and given over 20,000 bicycles to needy youths for over 18 years. The wonderfully charitable team from Steve's is donating 100% of the proceeds from the ofos to support the program.
Steve's still has a good 300 or so of these bicycles, many of them still in boxes. Though the boxes have deteriorated, the bikes have not – they were designed for extended exposure to the elements, so they're still in great shape. The price is super reasonable, and it is more than worth it just for the Sturmey X-RD3 alone, not to mention the very competent Panasonic 6 volt generator hub.
Three-speed English roadster enthusiasts looking for an AW hub replacement should be drooling at the idea. Think about it: No more worrying about wet-weather rim brakes.
If you are in Dallas, and want to head out to Richmond Hills to get one, the easiest way to get in touch is with Michelle at Steve's. Since the Craigslist link will eventually expire, here's the link to find their latest ad on the Dallas Craigslist: https://dallas.craigslist.org/search/mdf/bik?query=ofo
We'll post our new ofo to The Fleet as soon as it arrives.
Posted May 30, 2019 | By Kurt - Bike Share Museum