Gettin' Social: Two 3.0's join the Museum
The Museum's fleet is growing fast – faster than our undersized storage space can accommodate. But that didn't stop us from welcoming in a pair of our first preserved SoBi 3.0's.
These are the loop-frame, shaft-drive bikes that became instantly recognizable with Social Bicycles (SoBi) systems throughout the US, in addition to multiple UK operators, Poland's BikeU, and Velonet in the Czech Republic. Though already the second revision of their loop frame design, the 3.0 and slightly updated 3.5 were to become SoBi's most prolific model, with over 20 operators that we've counted.
Just in case anyone isn't aware, Social Bicycles basically invented GPS rental equipment on individual bikes, launching their first system in 2012. By comparison, it took ofo another five years to to graduate from mechanical combination locks (that anyone could memorize after their ride). Even the dockless Call-a-Bike system operated by Deutsche Bahn (since 2000) originally relied on an alternating four-digit operating code manually passed on from the phone to the bike's rental screen, and vise-versa.
The Social Bicycles system streamlined it all. Rental, locking, and simple docking stations. Plus, their controller would accept tap-to-pay, eliminating the barrier of smartphone ownership.
Yep, if you haven't guessed yet, we've become big fans of the SoBi bikes. Still, even though we have an example of the iconic JUMP 5.0 preserved, we did not have a 3.0 or 3.5. Until now.
Enter Dave Fotsch of Valley Regional Transit. Since 2015, he's run the Boise GreenBike SoBi system. Unfortunately, after five years in operation, the system is shutting down. Dave found the us and offered us one of their 3.0's; naturally, we were very happy to accept. With the generous assistance of local bike collector Brad Deteau (through yet another collector, Jeff Wills), packing and shipping was arranged.
The Boise GreenBike fleet consisted of 100 3.0's ordered in 2015, and a second order of 3.5's. Of the original 3.0's, Dave sent us the roster leader, BGB 001.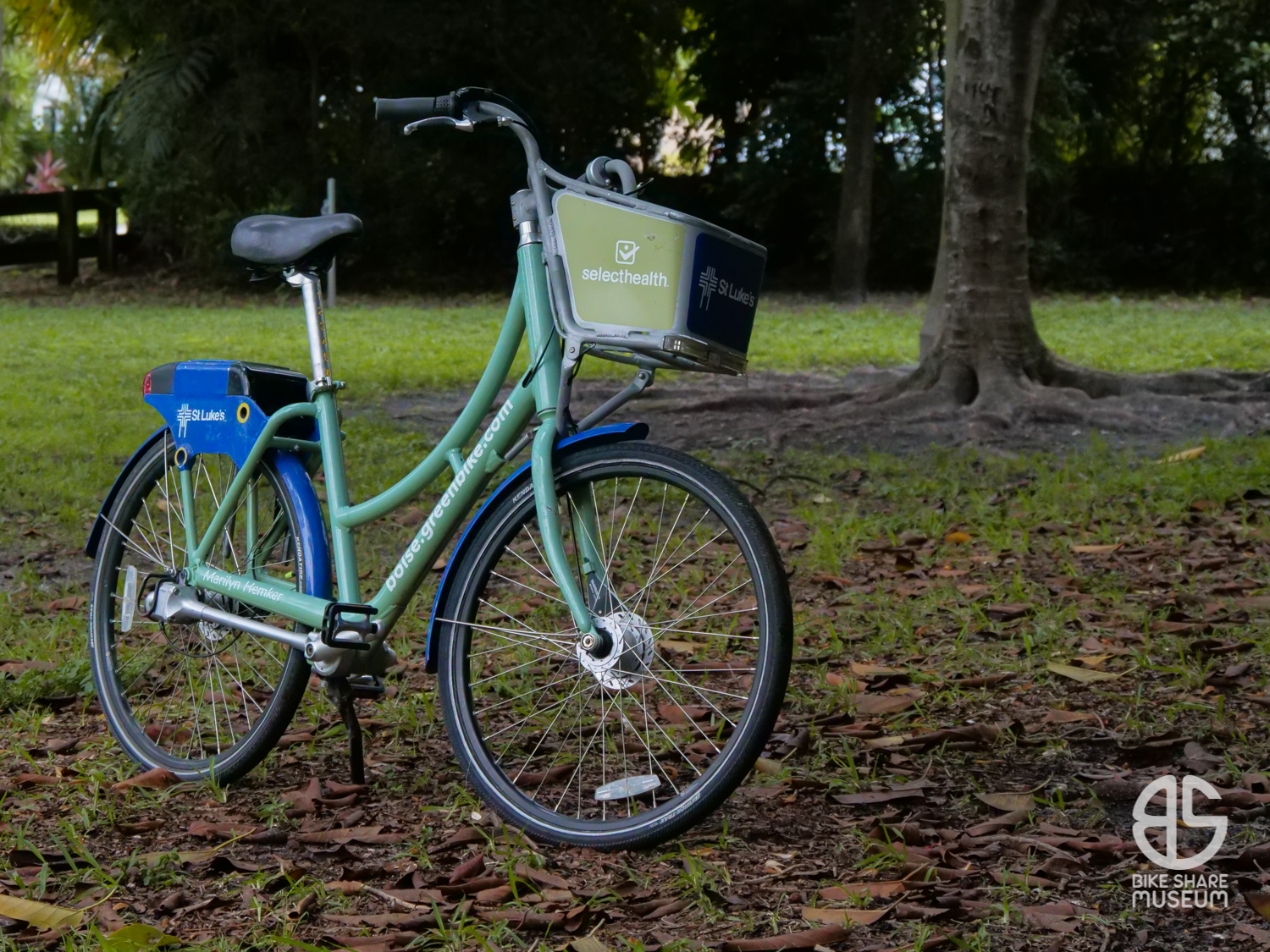 Usually, we aren't lucky enough to get the individual history of a bike when it comes into the museum, but Dave provided us actual ride data, which gives an idea of just how much use a five-year-old share bike receives:
From its first day in service on April 15, 2015 to its last rental on September 26, 2020, BGB 001 covered 3,219.55 miles, spanning 1,235 rentals. Each trip had an average length of 2.61 miles and average time of 36 minutes and 2 seconds.
To put that in perspective, this bike has covered the same distance it traveled by BikeFlights from Boise to Miami, plus another 388 miles. While it has a few superficial scratches to show for it, it rides as if it were brand new – five years and 3,000 miles later. Granted, the Shimano BR-IM45-F roller brake is a bit on the lethargic side at this point, but after 3,000+ miles, it has no reason to apologize for it.
That's in striking contrast with the (alleged) two-year lifespan that some dockless equipment has been associated with. Granted, BGB 001 was regularly maintained, but it's impressive nonetheless.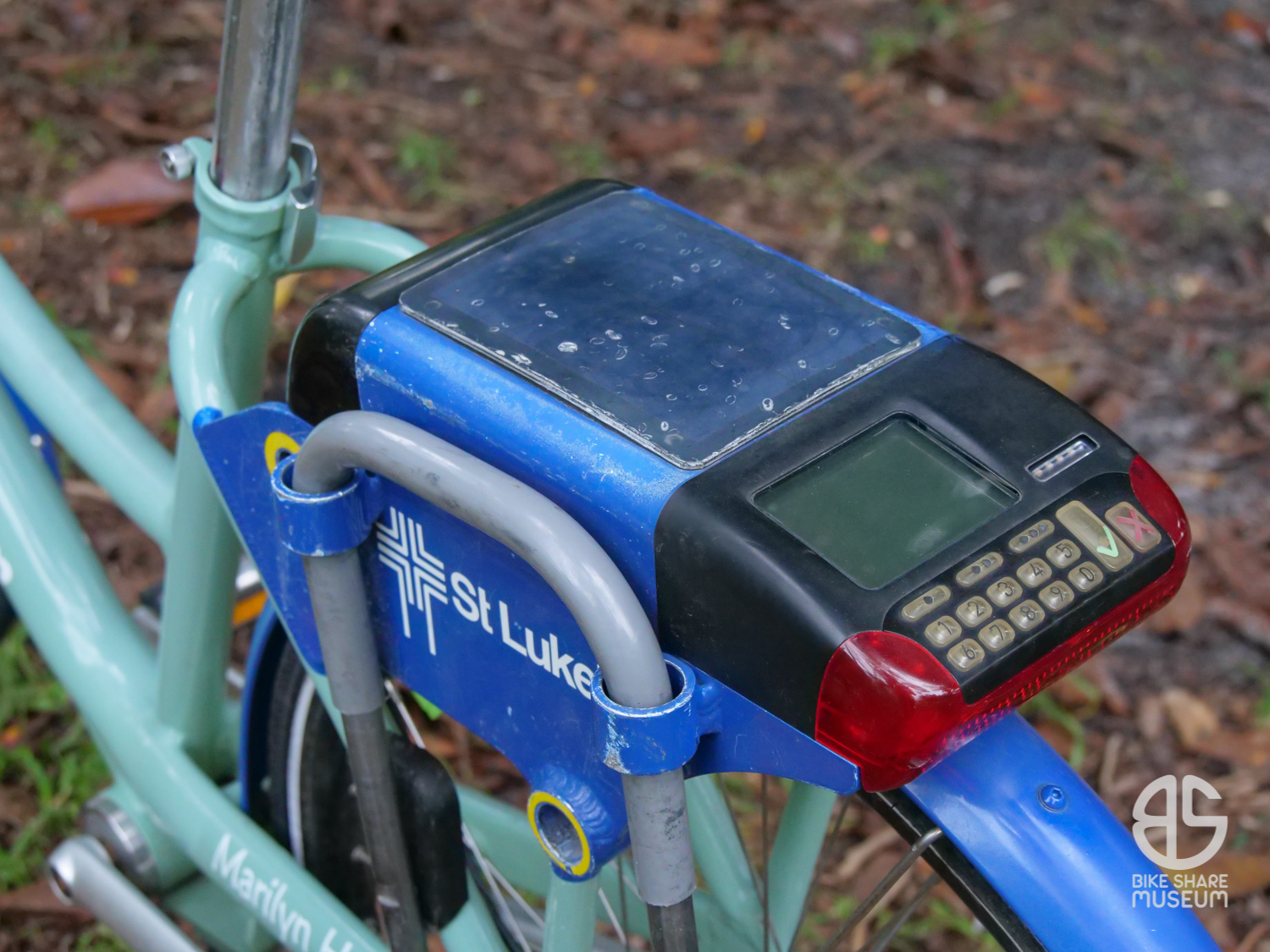 The story doesn't end there.
Dave also asked us if we wanted a SoBi Topeka Metro Bike as well.
Of course we did.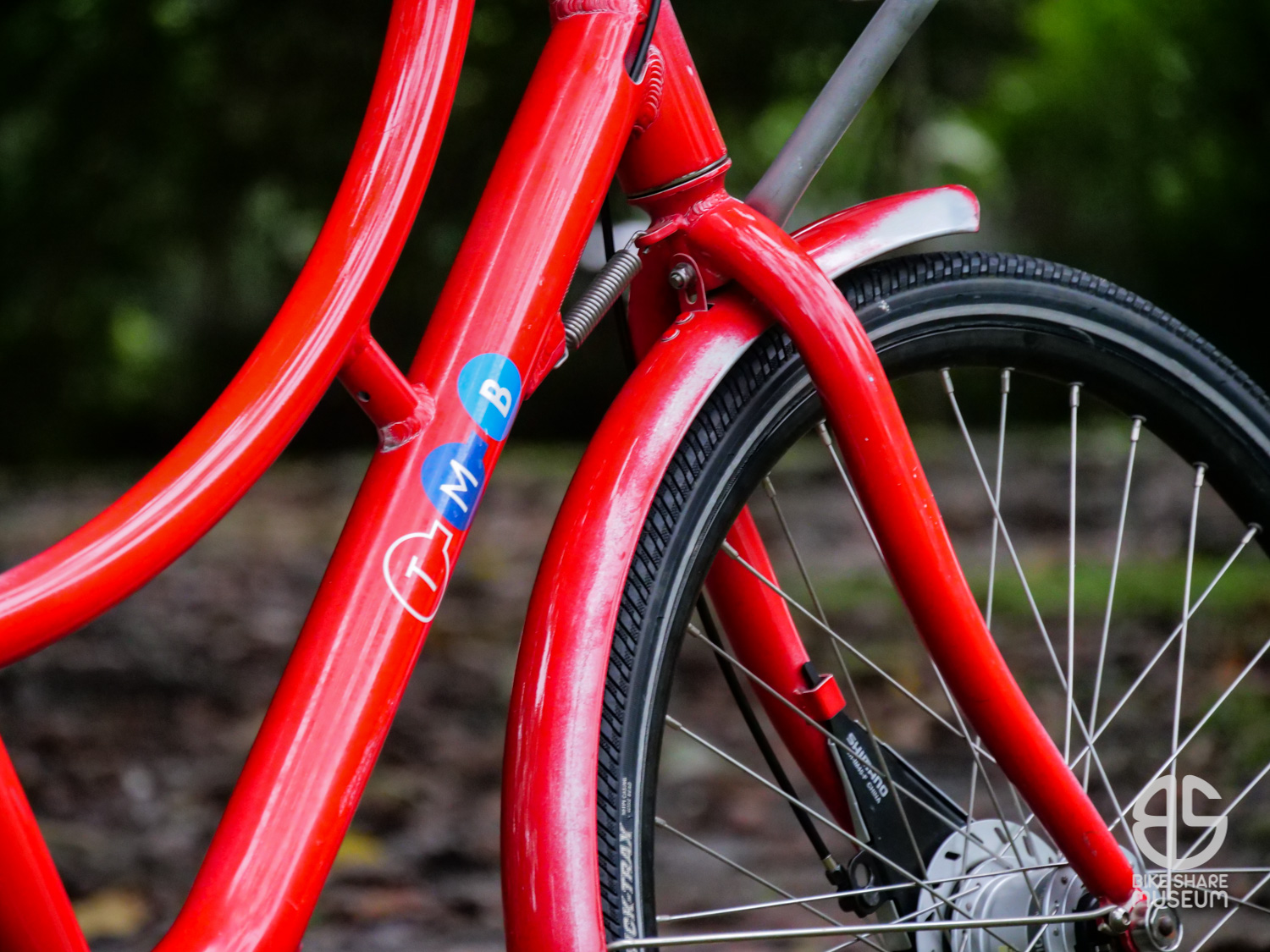 It turns out that Boise GreenBike had purchased 90 of Topeka Metro's original 3.0's a few years back. Like Boise, Topeka's system also launched in 2015 with 3.0s.
In April 2016, the Topeka program expanded with anther hundred; this time in a blue livery for their sponsor Capitol Federal. Another 200 of SoBi's 4.5's joined their roster in 2018.
It turned out that the original red paint had turned out to be been problematic. Instead of fading to pink, they developed white splotches throughout. Shortly after the 4.5's arrived, Topeka sold their now-retired 3.0's to the Boise program, who planned to respray them to match their existing bikes.
That never happened. Some of the Topeka bikes were stripped to the frame, but the parts were ultimately more valuable to keep the Boise fleet running. The bikes that remained intact were later donated to Boise's Interfaith Sanctuary, a shelter and support program for the homeless.
Topeka Metro Bikes number 097 remained intact and still with Boise GreenBike upon the program's shutdown this year. Brad dug up another box (technically two – the integrated handlebar basket is huge), and side-by-side, the 3.0's made the journey to Florida.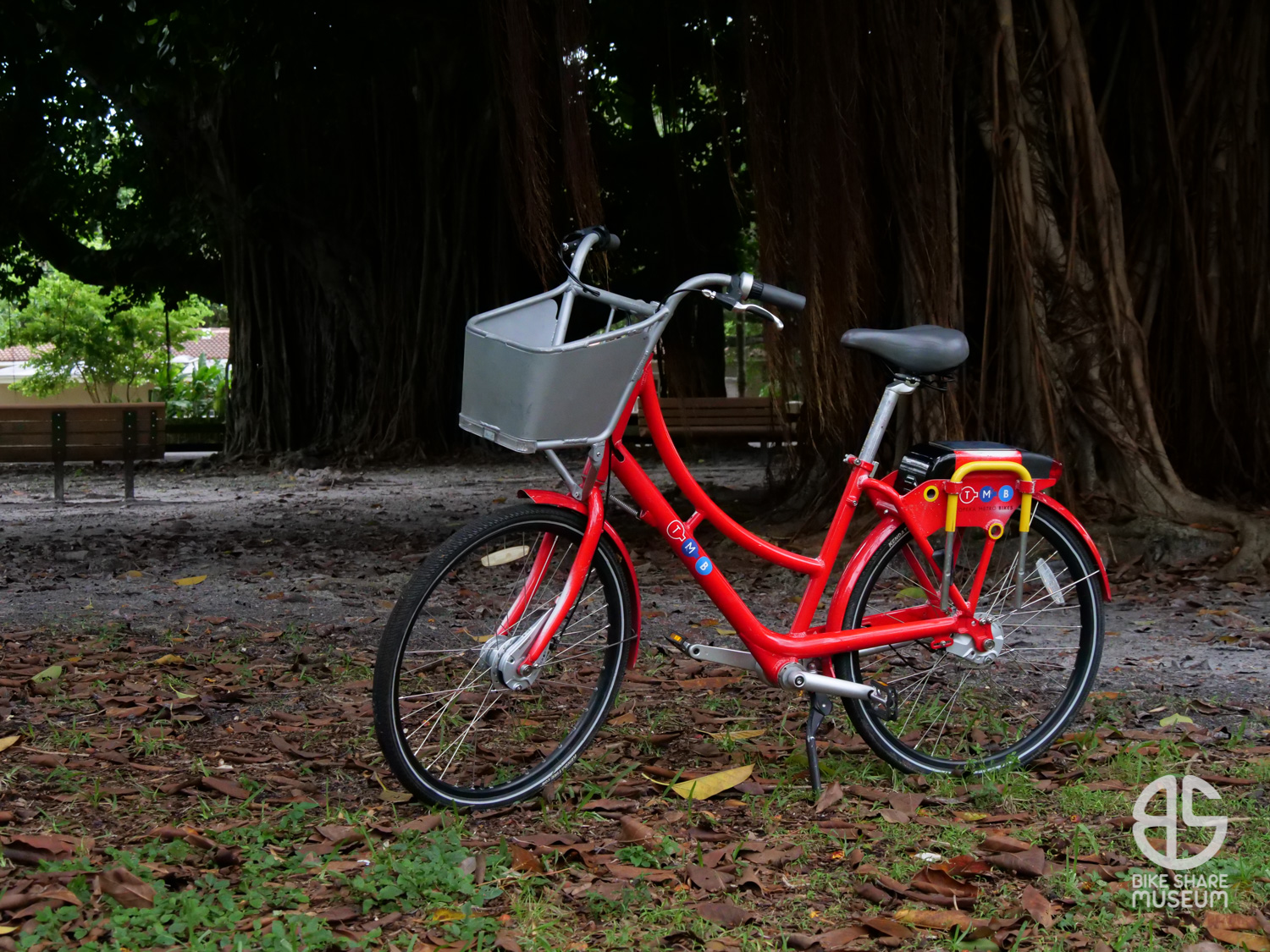 Unlike the Boise GreenBike, we don't have data on #097, but early retirement resulted in a really nicely preserved example. The controller's keypad looks like new, the red paint is downright stunning, and even the splotching has an unobtrusive, artistic quality.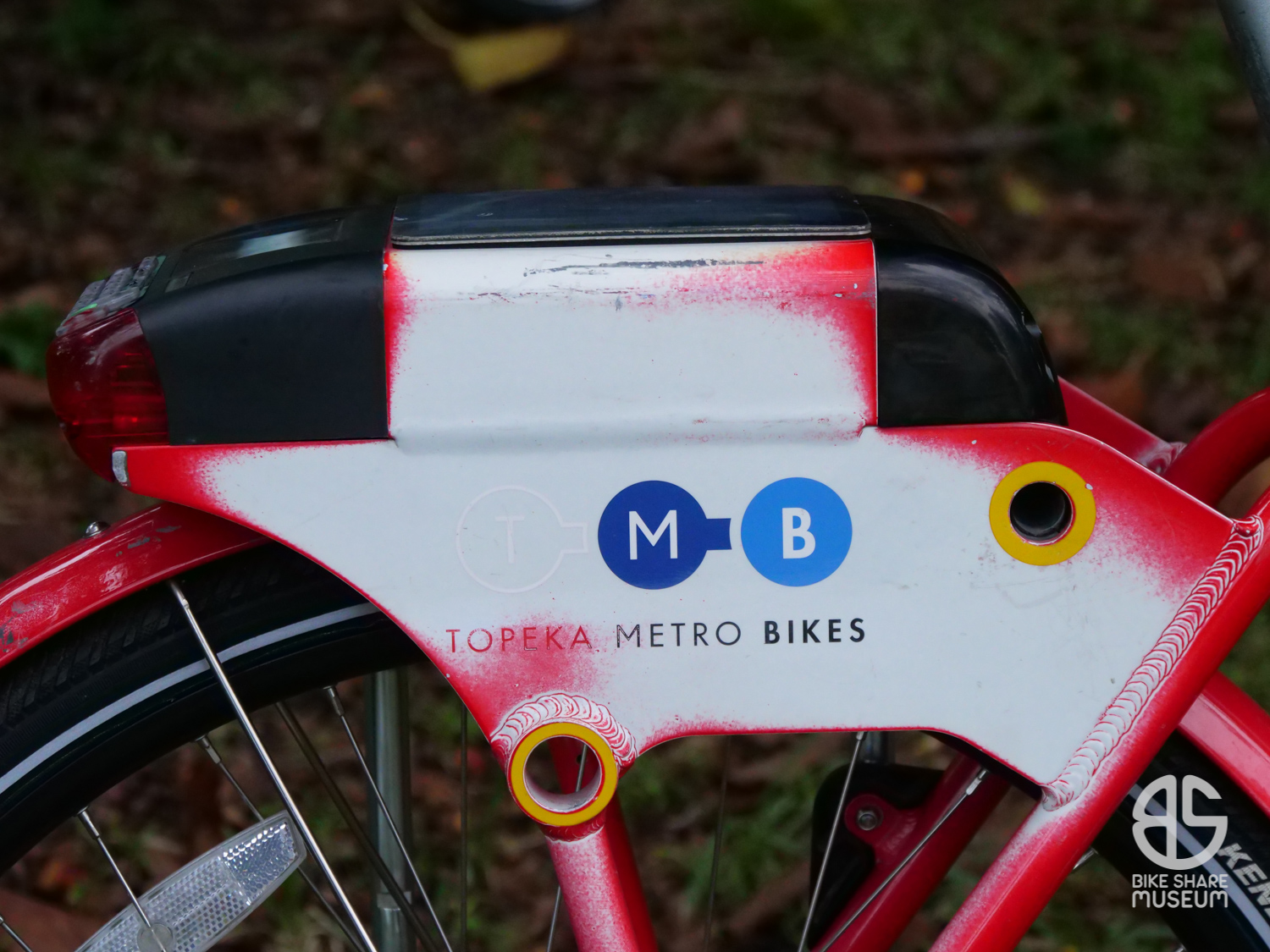 Unfortunately, as fantastic as these are, many Social Bicycles systems are starting to become extinct. Topeka Metro Bikes closed up on July 30th of this year, Boise did so in September, and others – including Breeze Bike Share, NOLA's Blue Bikes, and Biketown PDX – are either following suit, in limbo, or changing equipment, respectively. Some operators have cited a loss of operational funding stemming from COVID19, AT&T's eventual retirement of their 3G network has hastened the discussion of the 2G controllers' future, and there are reports that said controllers are beginning to have issues with reception.
Still, the SoBi system was designed to prevent planned obsolescence. When accessed with the proper series of security fittings, the controller can be slid out of its housing, disconnected from the bicycle's wiring harness, and a replacement fitted in minutes. With the right new tech, the physical bike could never outgrow the tech it was originally shipped with.
Sure enough, there's been some rumblings that MobilityCloud – the current operator of the original SoBi network – has a brand-new 4G/LTE controller currently in beta testing with Reddy Bike Share in Buffalo, NY. We haven't seen these, but if devoted SoBi operator Hamilton Bike Share's outlook is any indication, 3.0's and 3.5's will be running for years to come:
Thanks! There also appear to be several options for compatible controllers as the technology and networks change over time, so we're looking to the future with optimism 🙂

— Hamilton Bike Share (@HamOntBikeShare) October 27, 2020
This makes us very hopeful for the future of the SoBi bikes. As much as we're eager to preserve them here at the Museum, our love of bike share begins first and foremost with the success of these systems to move people in their cities.
In the meantime, the profile pages for both Boise #001 and Topeka Metro #097 are in the works and should be available soon. Keep an eye out on our Twitter feed for the update.
Posted October 31, 2020 | By Kurt - Bike Share Museum