ofo #60025919
2017 Shanghai General (Kent)
Specsheet
Manufacturer:
Shanghai General Sports Co. Ltd.
Service Region:
City of South Miami
Years Active:
November 2017 - 2018
Acquired from:
Miami-Dade County
Inducted to the Museum:
March 18th, 2019
Gallery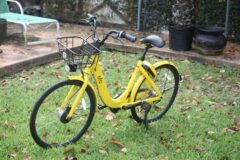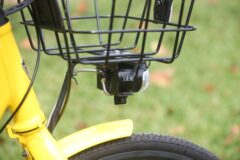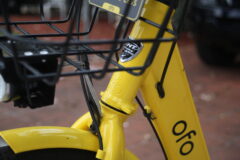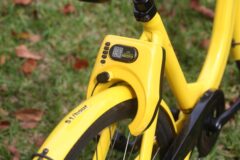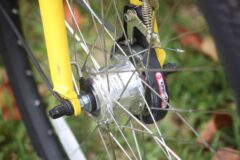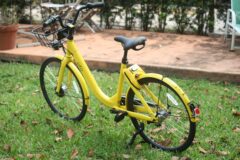 Bicycle Bio
Our bright yellow ofo (yes, all lowercase) is one of the surprisingly numerous survivors in the South Florida area and the very first member of the Bike Share Museum.
Though ofo's exit from the US market was decidedly varied – case in point, a good portion of the Dallas fleet of 5,000 were recycled as scrap metal –
the company was kind enough to offer Miami-Dade County their relatively small local fleet, retired after a brief deployment in the City of South Miami. As such, 200 ofos survive as part of Miami-Dade County's Bike305 program, minus their locks and sporting Bike305 branding (the roughest examples are used as pedalless balance bikes for adults; the best are loaner examples for Miami-Dade Parks).
Thanks to the County, we were able to acquire No. 60025919; a spare from the Bike305 fleet, sidelined due to rear fender damage. Some minor TLC brought it back to its former glory. It now displays as it would have during its time in service, sporting its original livery (sans logo patches) and complete with original ofo smart lock.
This particular ofo model is branded for Kent International – as are a few other ofo models – but was built by Shanghai General Sports Co. Ltd. It is one of at least three ofo designs used stateside. Seattle's fleet, for instance, was a combination of very elegant mixte/berceau frames and mono-tube frames with a floating central tube. The last batch of the Dallas fleet – manufactured by Tianjin Fuji-Ta – featured an elegant, curved-mono tube. We have one of these late Dallas ofos in the museum.
This Shanghai General model is a no-nonsense mono-tube design with a gusset between the downtube and seattube, made for strength rather than beauty. It is a surprisingly robust, tight, and tamper-proof bicycle.
This ofo, like many dockless bikes, does away with external V-brakes in favor of a front band brake and rear roller brake, while the LED headlamp wiring is tucked away, through the fork, to the 6V Panasonic hub. The wheels are secured with 5-point nuts, which – on this one – are thankfully free of any channel lock vandalism. The crank bolts mirror these wheel security nuts with 5-point Bryce Penta-Plus security heads (or similar knockoffs).
The saddle and seatpost are also secured with tri-wing bolts which are entirely unique to ofo. In fact, there are five different types of security fittings that protect this bike from being parted out or defeated by vandals. It seems to have worked: I've never seen a spraybombed ofo running around town with a broken lock. Since most ofos are in private hands now, we've also published an entire article about the unique tools required to service them.
Also worthy of mention are the fender stay hardware, which is admirably sturdy and backed with Nyloc nuts. If only everyone built fenders this way.
Above all though, my favorite feature is the gas strut seatpost, which operates the same way an office chair does. This one doesn't give when you sit on it though! It stays in place, works well, and ought to be something fitted to kids bicycles; especially those used to teach how to ride. A few Limes have these as well, along with some other less common bike share bikes. These posts are made by Hsig-Lung, and I'm pretty sure they're an adaptation of dropper seatpost technology used on MTBs.
The one weakness is that all of this equipment does come at a weight penalty – but that's only fair, this isn't supposed to be a Cerevelo or a Columbus SL Colnago Super. I haven't weighed it yet, but it is easily as heavy as my 1951 Raleigh Sports (with stainless rims and DynoFour). The ride isn't lively at all either, and the solid rubber tires "ride like those bicycles we had as kids!" as a neighbor put it.
Nevertheless, it toodles along just fine and the Nexus 3-speed provides ample gearing for flat ground. The integrated rack is also extremely sturdy. WALD could learn a thing or two from these designs.
Remember, it was never made to win the Tour.
It was made to tour the Winn.
…Dixie.
Related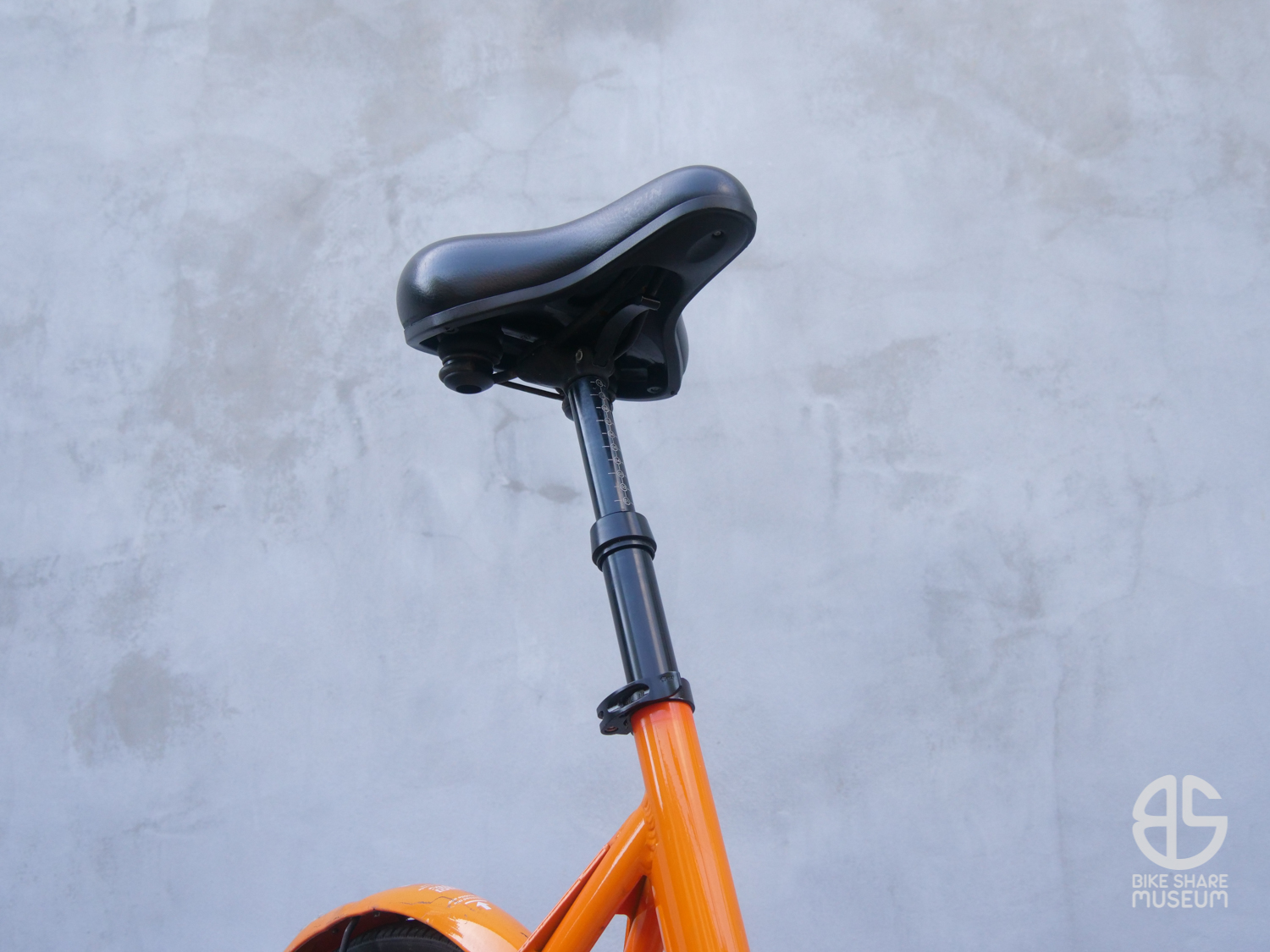 This simple conversion will allow you to raise a factory gas-adjust post or replace it entirely.
You can throw away your conventional wrenches for this one.
I'm pleased to say another bicycle has joined the ranks of the Museum. No, not all of them.
Hop on!
The Bike Share Museum is an enthusiast-run site; everything to host this site and store these bikes comes out of our own pocket.
If you'd like to see more content like this, consider supporting us with a donation (of any amount) to help keep the Museum going. Thanks.