A closer look at Spin's bicycle
No. 7723417 was one of the last Spin bicycles deployed in the Coral Gables area that I know of. Sadly, I believe all of the Spin fleet were stored shortly thereafter this spotting, but like most dockless bicycles, it is a fascinating piece of equipment to study. Author's note: 7723417 is now part of the museum, along with two undeployed Gen 2 and Gen 3 examples.
(UPDATE: The Miami fleet has since been re-distributed to San Diego – not a single usable bike scrapped!)
This particular Spin is the second of three generations of bicycles deployed by the company to-date, and was the first to depart from the steel framed bikes (Gen 1's) originally launched in Seattle. Author's note – December 2019: Only second and third generation Spin bikes were deployed in Miami, though a single first-gen was present at the Miami warehouse. This bike is now in our collection. 
The Spin Gen 2 – at first glance – feels slightly less robust than the Museum's 2017 ofo, or the two LimeBike variants I've experienced. Like all the Gen 2's, it is also equipped with V-brakes and conventional Allen key hardware to keep the pads and levers in place. One could argue that this is bit of a vandalism risk (not long after Spin's rollout in Seattle, cut brake cables on Gen 1 models did make headlines), but from the practicality side, V-brakes are powerful, reliable in wet weather, and arguably easier to service than band or roller brakes.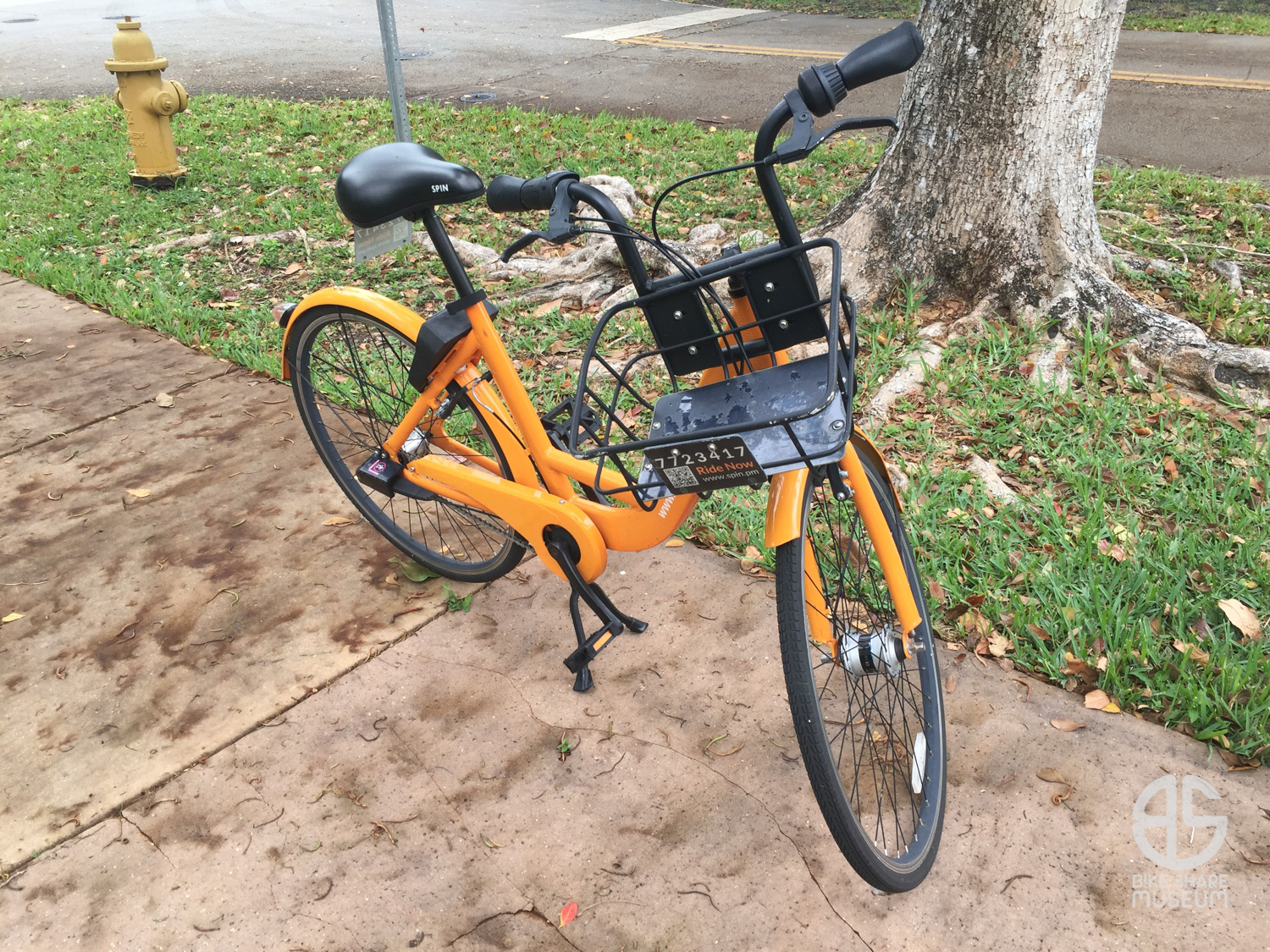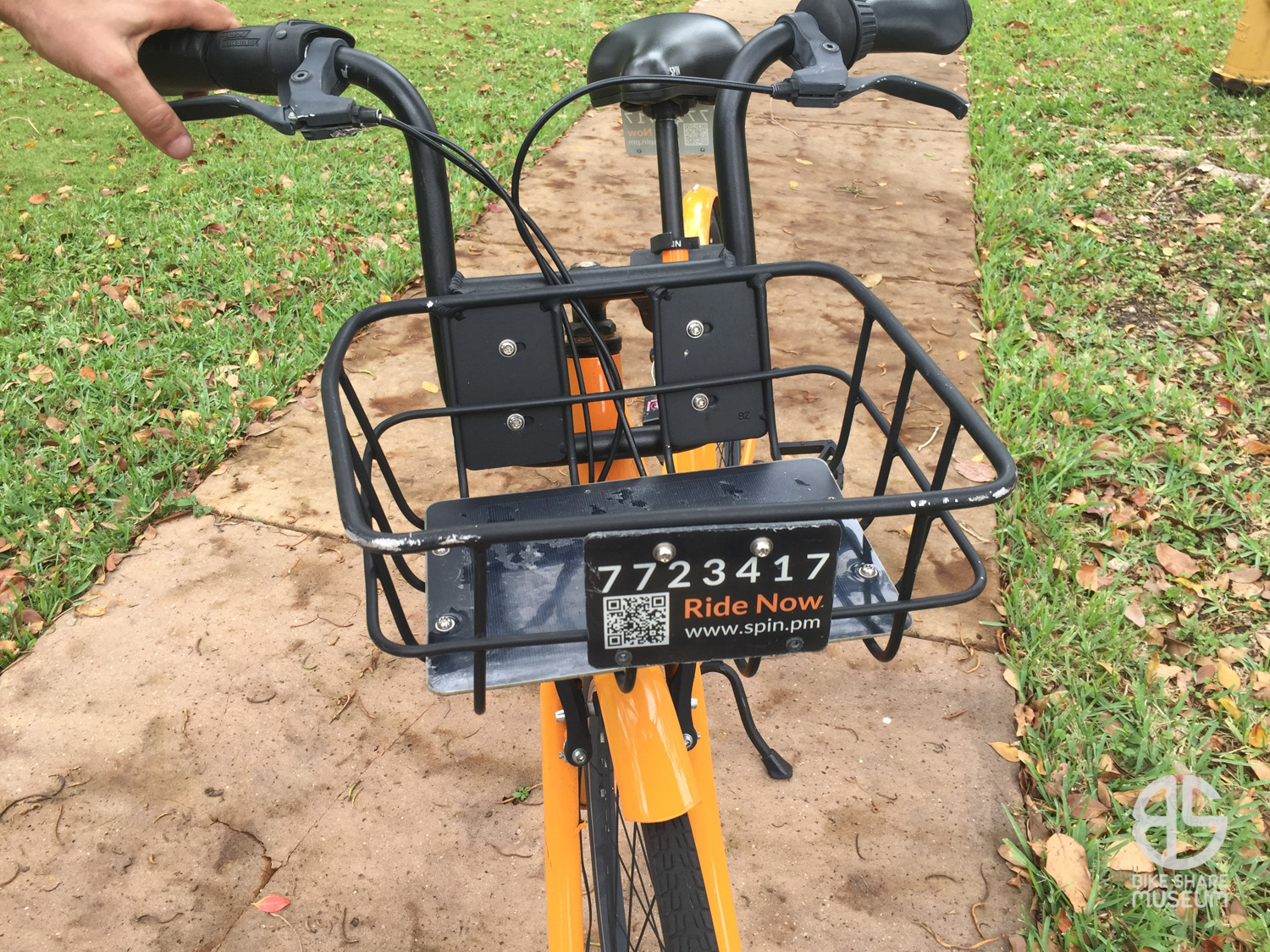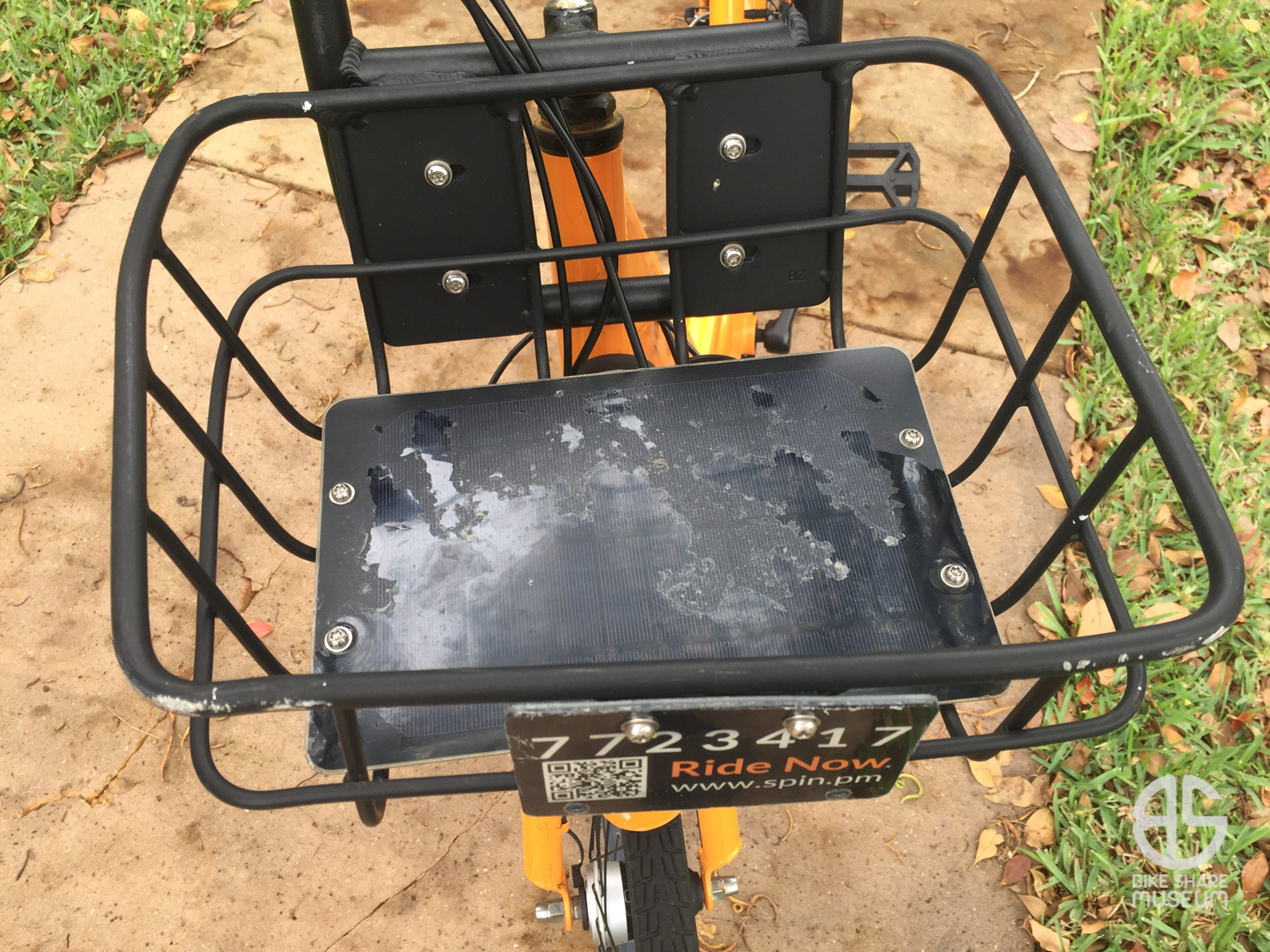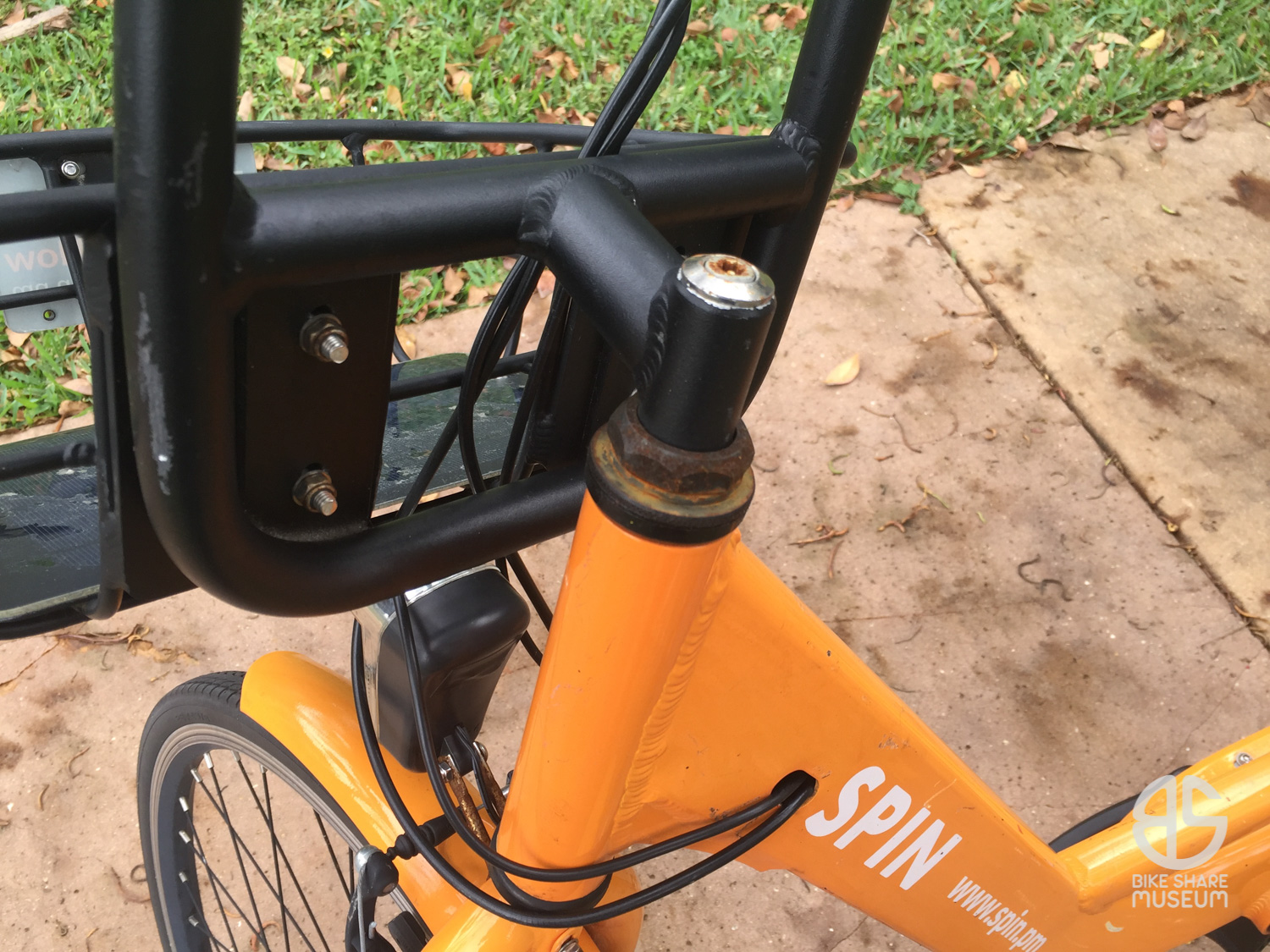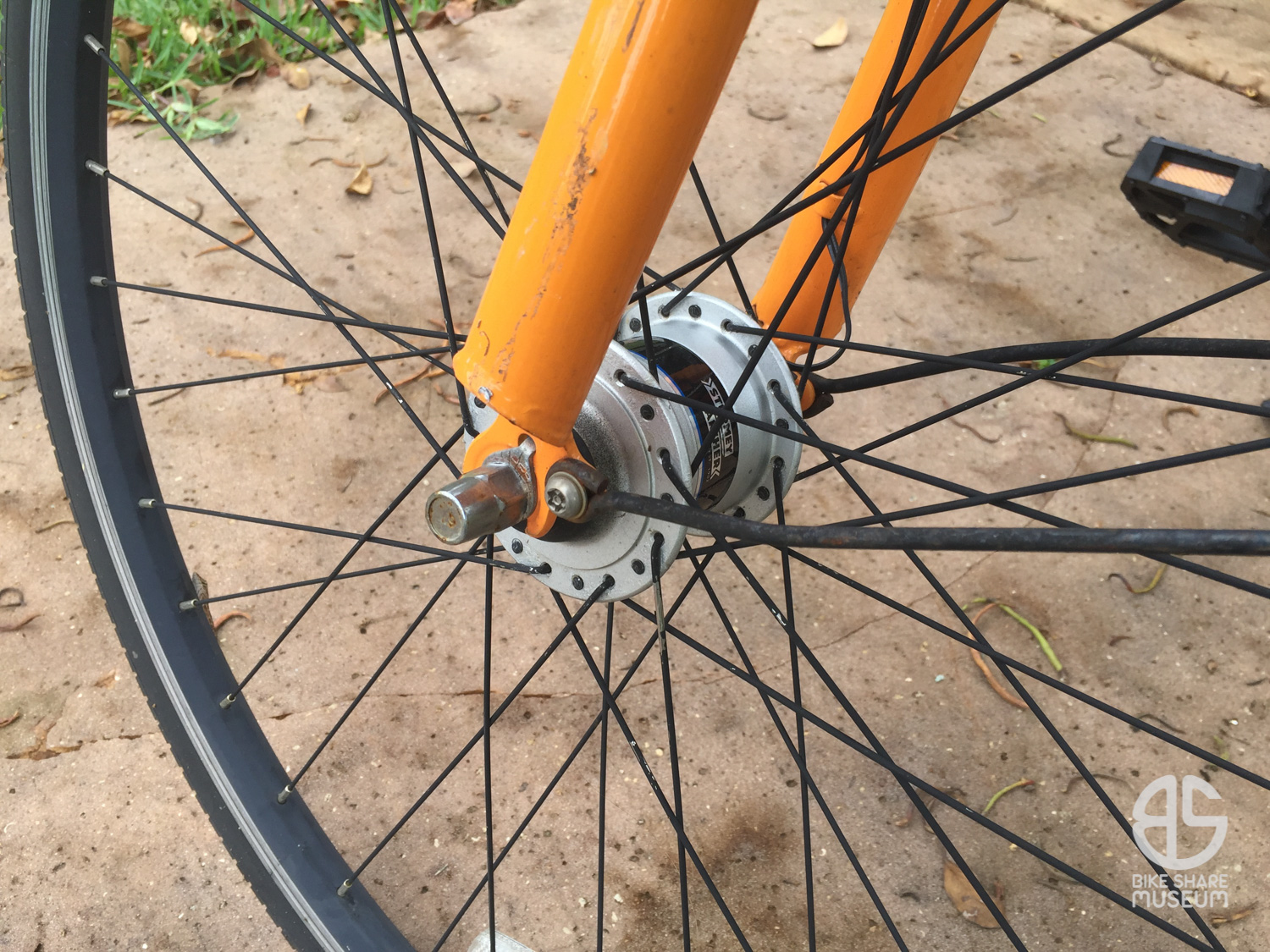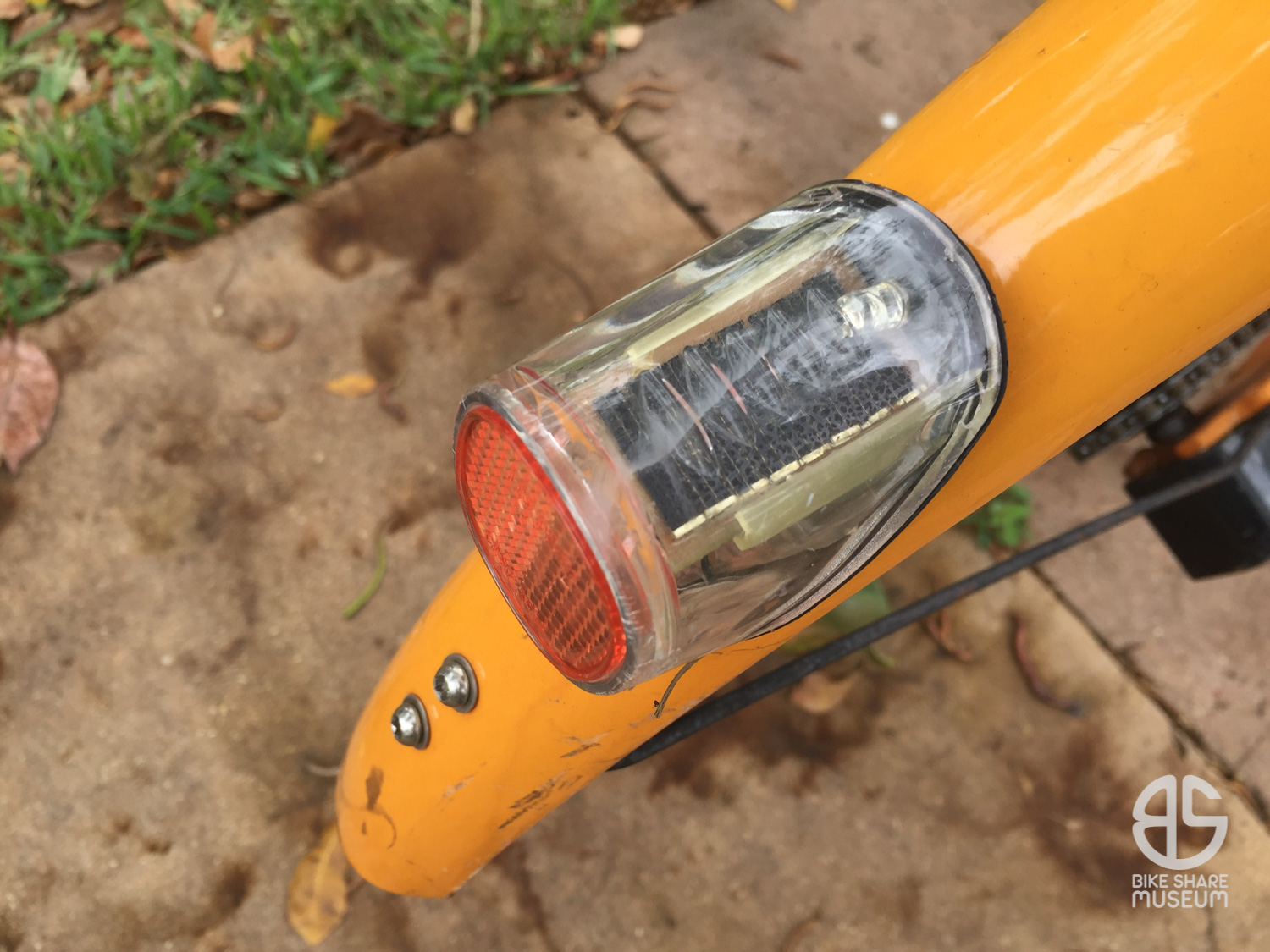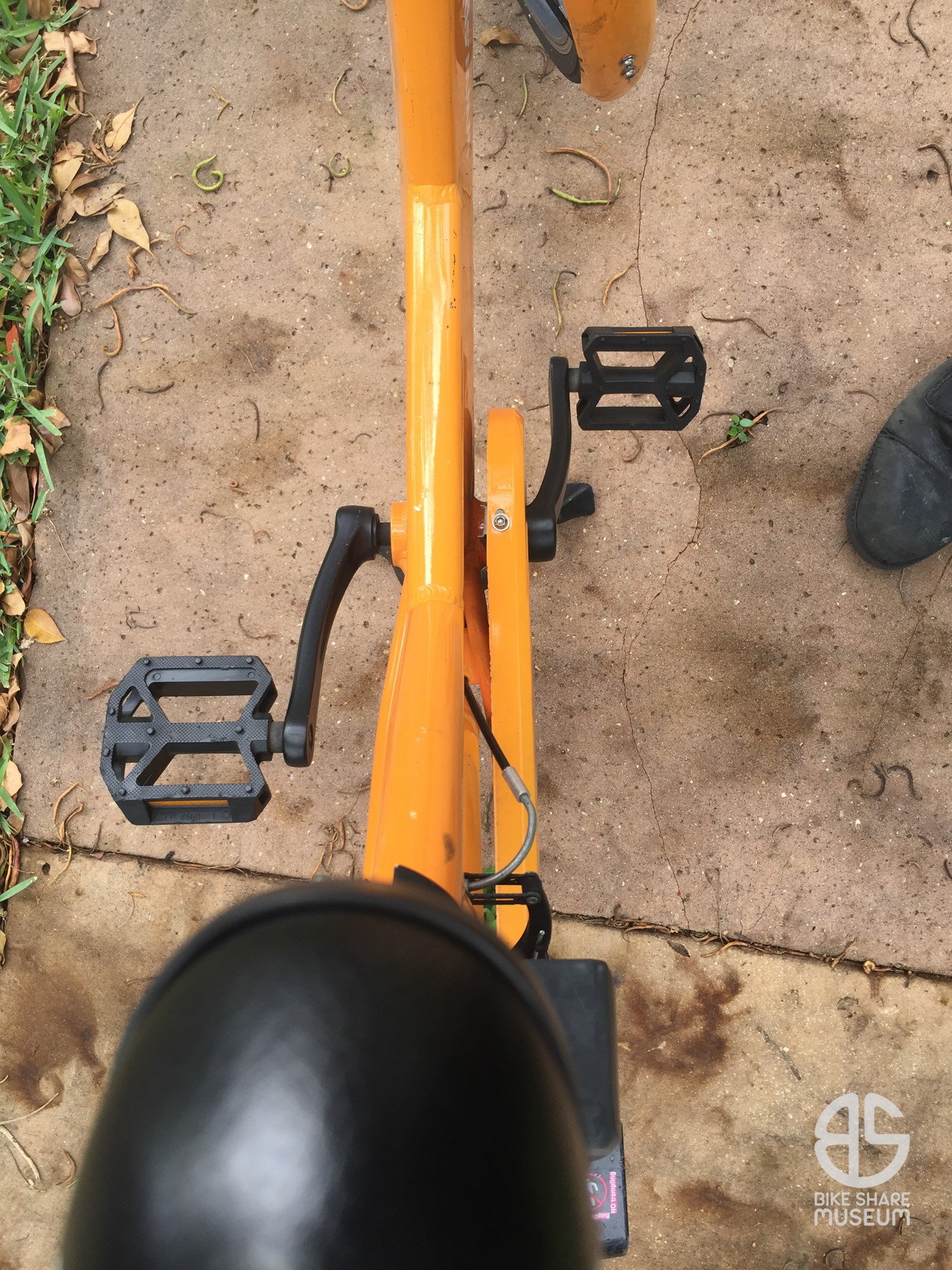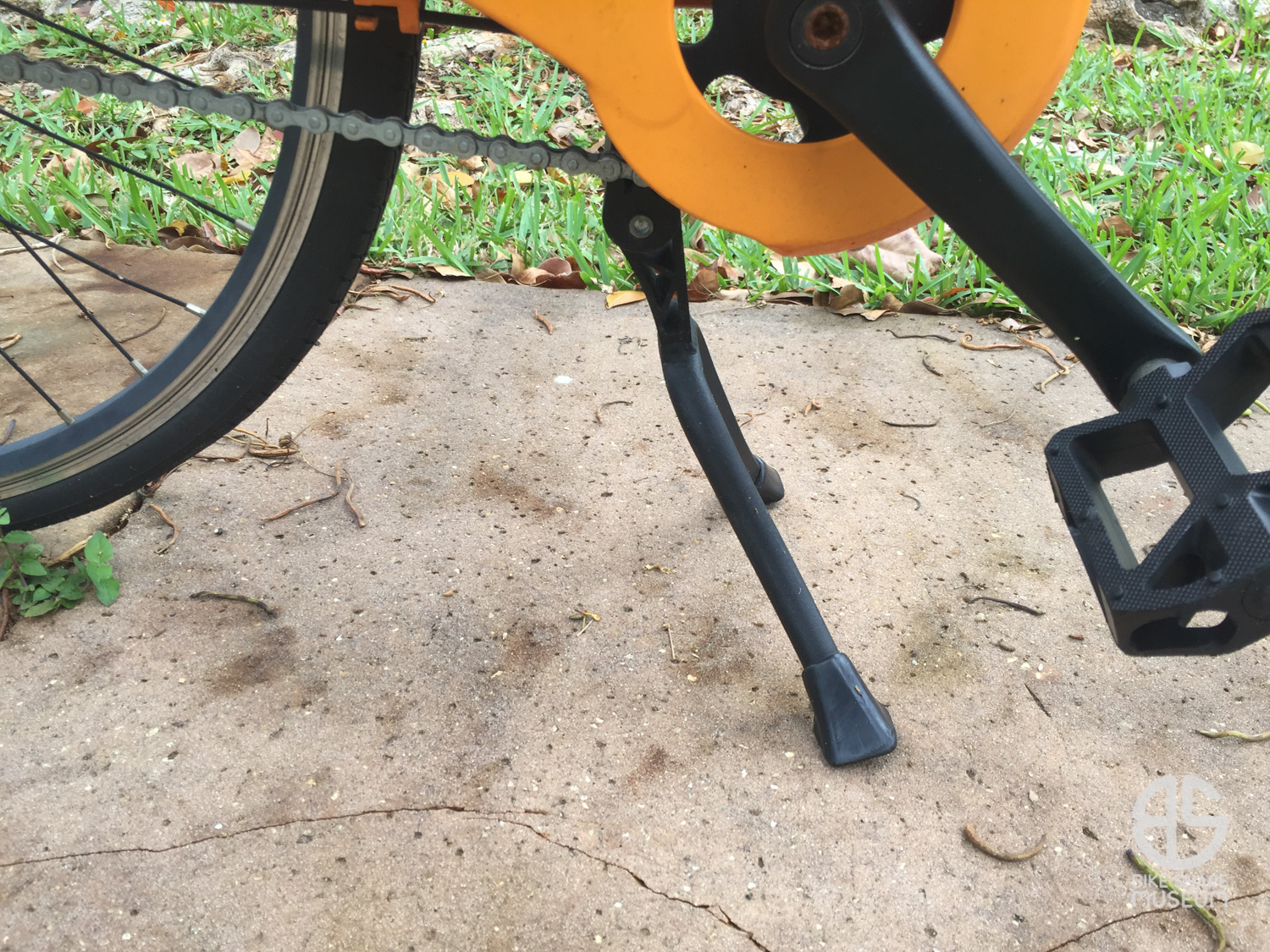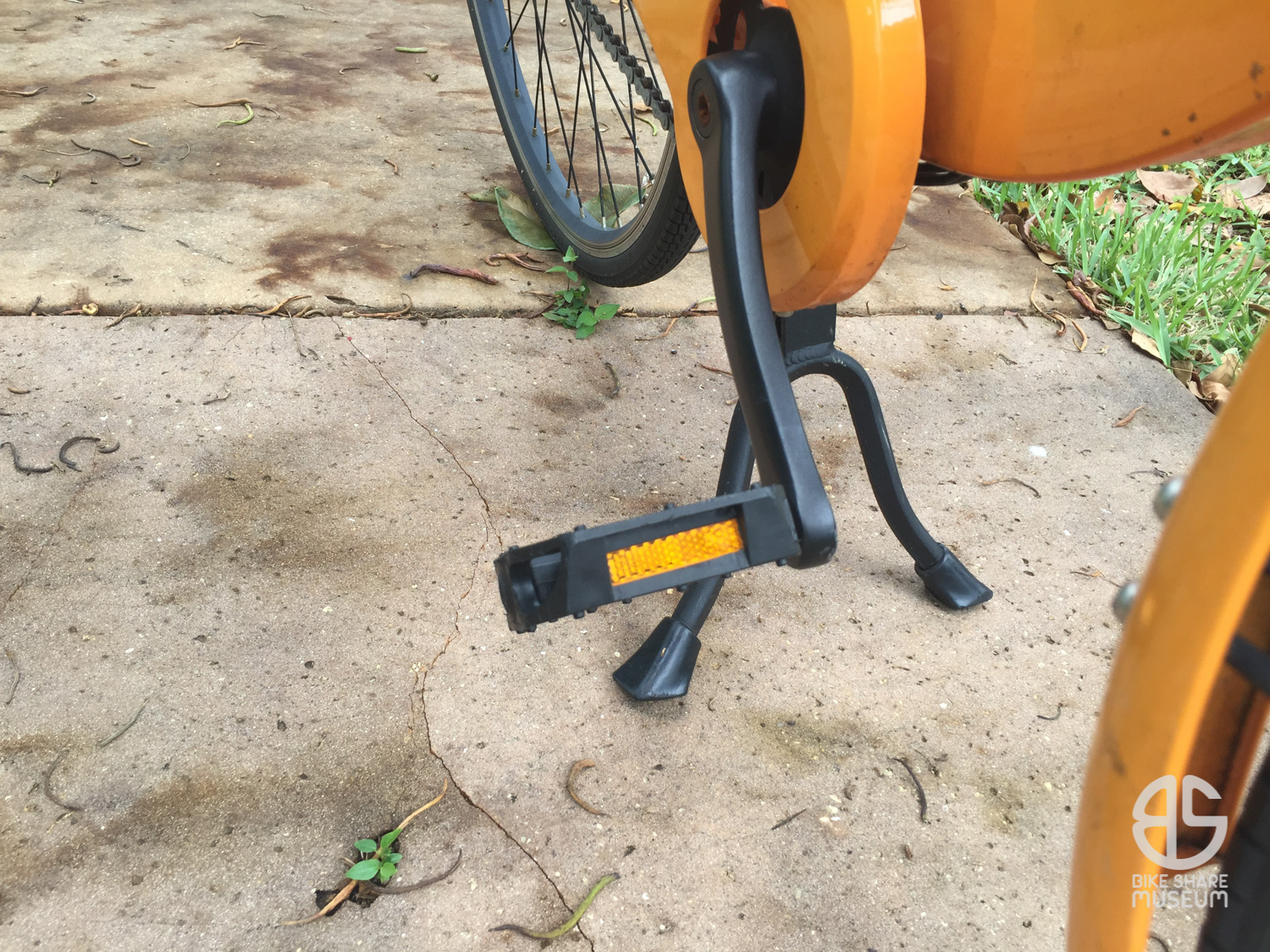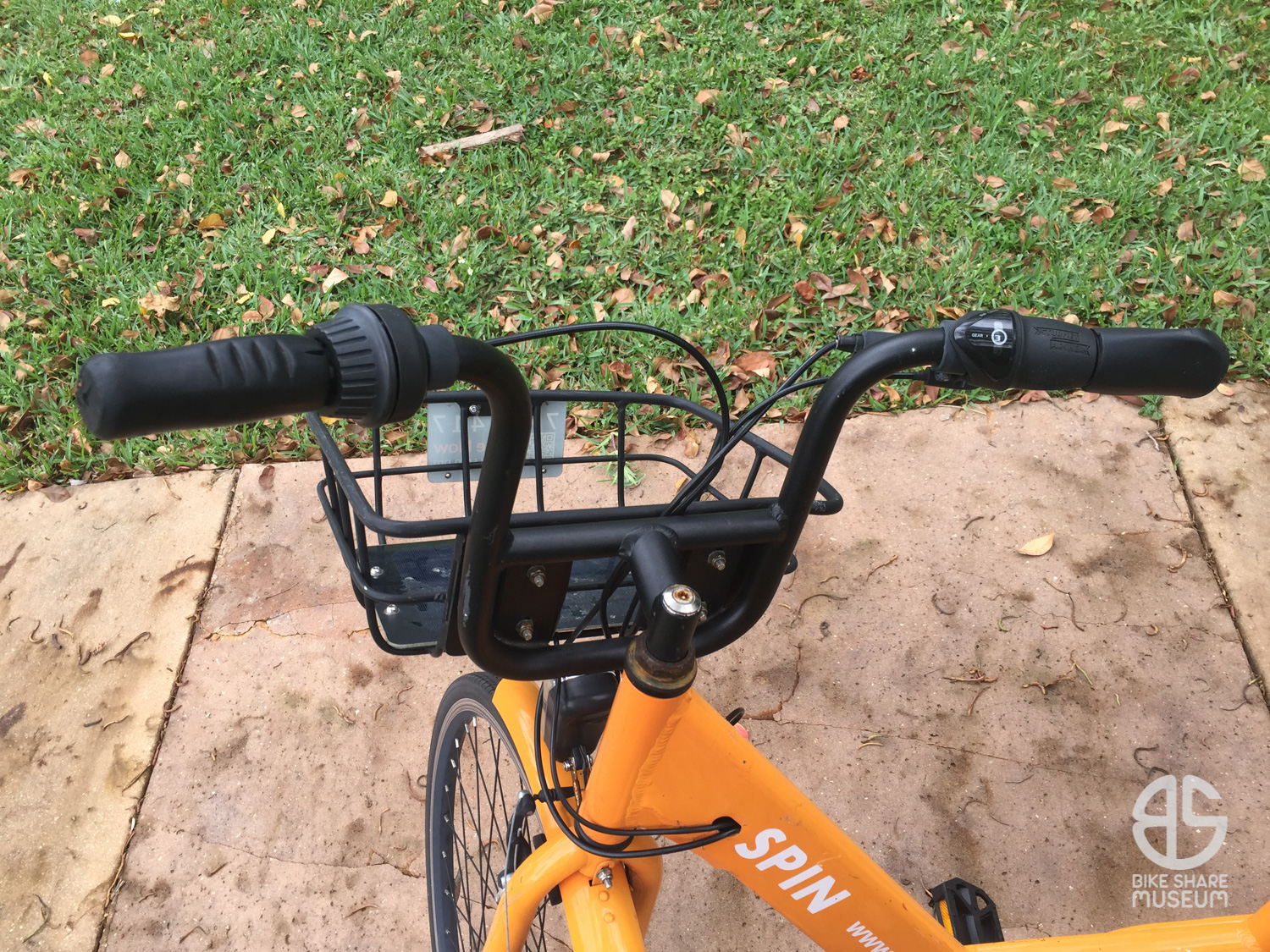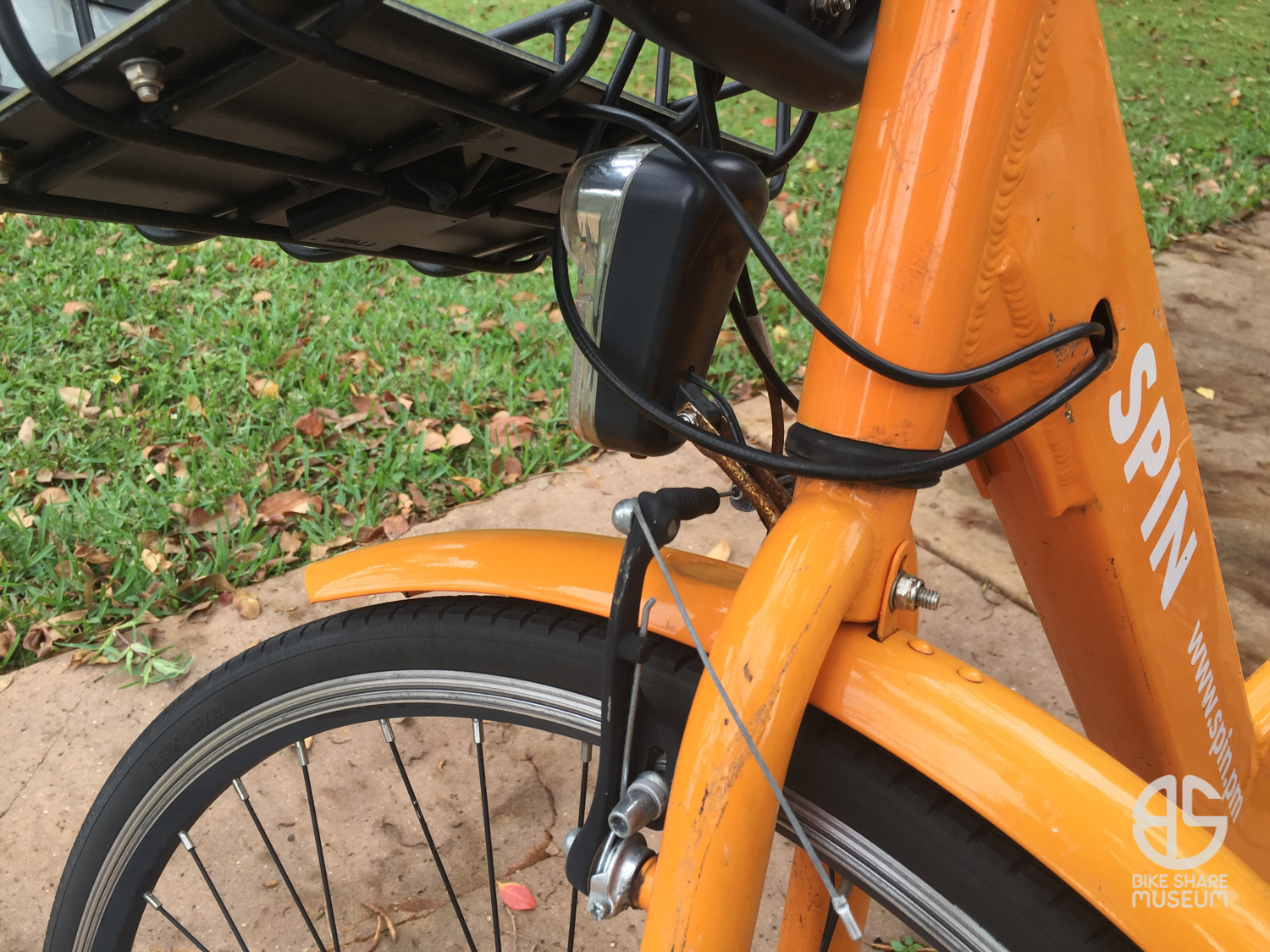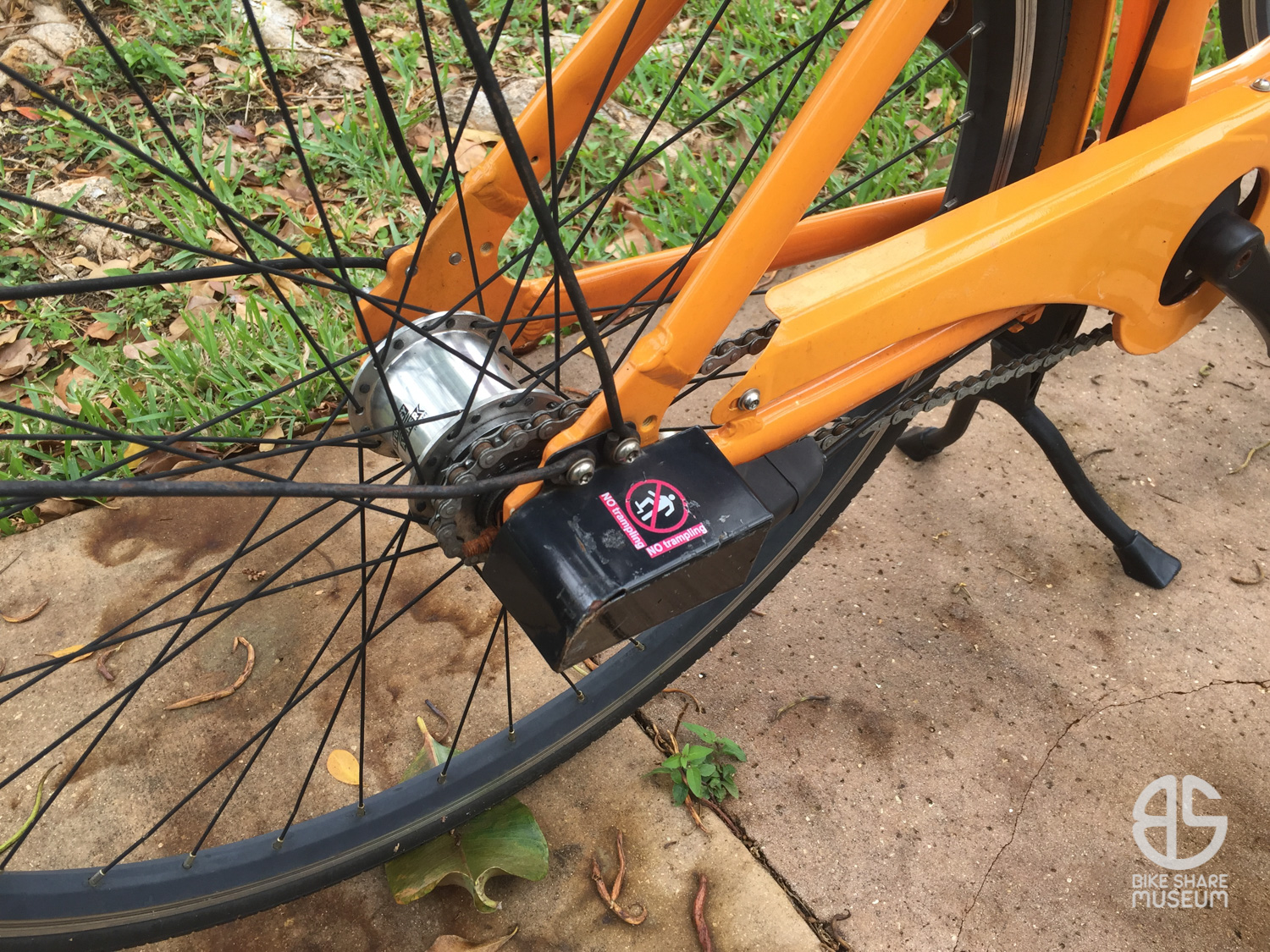 I was particularly surprised that the cable exits on this particular model were absolutely bare, without any sort of grommet, but given that it had no signs of wear, it apparently works as-is. Author's note: These were fitted with a grommet on the left side; this one was missing it.
As a fan of highly-kitted out English 3-speeds from the 1950's, I was pleasantly surprised to see that this Spin uses matched Sturmey-Archer hubs front and back, in contrast to the common Panasonic/Shimano Nexus combination. The Spin runs a 6V HDS12 Dynohub up front, while Sturmey-Archer's updated version of the N.I.G. AW – the aluminum-shell SRF3 – graces the rear.
The hub's indicator chain and guide are protected on the Spin with a stamped steel plate, but it looked easy enough to defeat – perhaps better off if constructed out of a slightly thicker gauge of steel. I realize it isn't a frame peg, but with the general public, you have to build anything that could be used as a frame peg…as a frame peg.
The aluminum, double-leg center kickstand is one of the Spin's best features, if a bit weak. These work really well when new, but bent stands seem to be pretty common; prospective customers tend to try the bicycles out in place – with the kickstands down. They're not made to support a rider's weight. Author's note: Still, these perform better than the steel, dual-leg counterparts found on the docked electric bikes operated by Ride On Miami. One of them bent simply by propping a bike up.
This particular Spin was left in a residential part of Coral Gables for a few days, and since it was no longer showing up on the Spin app, I reached out to them. I have to give them exceptional kudos for the most responsive and kind customer service of any of the dockless services I've reached out to so far. It was also promptly picked up the next day.
Nevertheless, I do fear whether it was ever redistributed or not. Though the original Coral Gables Spin pilot featured both the scooters and bicycles, nearly 100 have been relocated to Spin's warehouse in Allapattah.
UPDATE: Fantastic news: Spin not only donated a Gen 2 and a Gen 3, they donated the warehouse bikes as well – not just the Allapattah bikes, but 500+ in another warehouse. More on this here.
Some might laugh that a Bike Share Museum should exist, but this is yet another example of how widespread dockless bike share has already become a thing of the past in Miami – unfortunately. Though the City of Miami we recently gained HOPR in Downtown and Miami Beach – which makes it the only dockless service in the Dade County region – HOPR appears to be limited to specific dropoff points, thus essentially making it a docked system without physical infrastructure.
At any rate, this limited service of bike share in comparison to the deregulated 2018 months is a sad thing for diversity in micromobility. Yet, given the disconnected – and generally terrible – bicycle infrastructure in the region, perhaps it shouldn't be surprising.
Posted May 11, 2019 | By Kurt - Bike Share Museum